| | | |
| --- | --- | --- |
| Darlington Street | | Views: 3711 |
| DARLINGTON STREET | | Comments: 31 |
| Photo: Frank Orrell Item #: 29509 | | |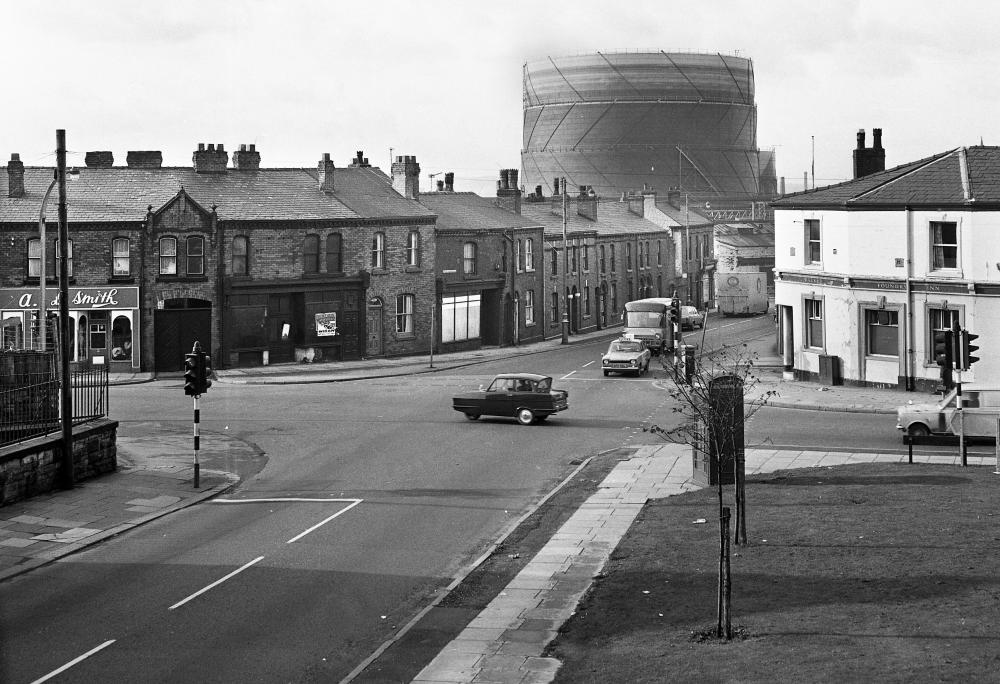 | | | |
| --- | --- | --- |
| | Image scaled down from 1000px to 684px wide | Click here, or click the photo to view original |
| | | |
| --- | --- | --- |
| | The junction of Darlington Street and Warrington Lane with the Foundry Inn on the right and Wigan gas works in the background in the late 1960s. | |
Comments by Veronica, 1st July 2017
Remember this scene as if it was yesterday. Lilian Smith's dress shop- you could guarantee to get fixed up, bought many a dress from there. The gas works is where my dad worked for forty years. The row of houses is where my maternal grandmother was born in 1900. Marvellous picture.
Comments by Linda Massa, 1st July 2017
Lilian Smiths, got my wedding dress from there in 1970.
Comments by Garry, 1st July 2017
Just one question, where has it all gone, our beloved Wigan.
Thanks for the memories Frank.
Comments by tony, 1st July 2017
The left hand side of the photo use to be WV Jackson's a firm of plumbers, joiners, remember going on Saturday morning when I was 12 years with my dad he was a plumber had me melting lead, for his job roofing.
Comments by Dave C, 1st July 2017
Thanks for this one Frank. The pub on the left was the Foundry Inn, but was also known as the "Smoothing Iron" because of its footprint.My Great Uncles, George and Eric Dawber were both Landlords there as far as I can remember and as my Great Grandparents lived just a few doors from there, I presume my Grandfather spent a great deal of his time in the Vault. The stone railway bridge supports are gone from the photo, which I remember very well, having been at Warrington Lane Nursery School in the mid-50's. It was just off the the right. Great photo.
Comments by Albert., 1st July 2017
Pepper Mill Brass Foundry the other side of the pub. Did they fully cover over the River Douglas, or is it just a bridge that is still in use?. Has the gas works site been utilized for anything else. Collected many a hand truck full of coke, from the gas works. Truck had wheels, converted from off a mangle
Comments by DerekB, 1st July 2017
Albert, the gasworks site is now a car park and the opposite side of the road is the site of the relatively new Wigan and Leigh Magistrates court. The 1970s built former Wigan Police Station in Harrogate St. has been converted to a Premier Inn.
Comments by Ste Wigan, 1st July 2017
Is that Ford Escort at the lights a 'Panda Car"?
Comments by karen, 1st July 2017
Hi can anyone please tell me when where the 2 bridges on Darlington St Wigan demolished T.I.A . Brilliant photo's Frank :-) thanks
Comments by Carolaen, 1st July 2017
My Mum and dad lived all their married lief off Darlington Street East so I know this area very well and it brings back loads of memories. I seem to recall that there used to be a large sailing yacht (on Blocks or a trailer) at one side of the pepper Mill Foundry. I'm sure it was there for years. Anyone know why it was there and or what happened to it ?
Comments by Mick, 2nd July 2017
Carolaen - The boat was a catamaran, and it was in the Pepper Mill yard for a few years, in the early/mid 1980s, when I worked the Scholes area as a police officer.
It was said to be one of the largest craft of its class, and was there for completion and fitting out.
Two things I remember well about it were:-
Firstly, when they did a paint job on it, they started spraying when the wind was blowing from the east, which caused a fine mist of white paint to drift across the Douglas, and over cars parked at the bottom of Shelmerdine Street, and the police station car park. There was an outcry, and compensation had to be paid to the car owners.
Secondly, when it came time to move the craft from the yard, all around 1985/1986, I was detailed to assist with the point duty on Warrington Lane and Foundry Crossing. The officer in charge of the operation was an Inspector from the Traffic Management Department at Force Headquarters, and it has to be said he was rather self important. He went to great lengths to tell me about how he personally, had calculated the route the boat should take to its destination, and ensured there were no low bridges or obstacles on the route.
Famous last words.
As the low loader carrying the boat emerged onto Warrington Lane, and attempted to turn right, it collided with and demolished the metal post of a No Waiting sign on the pavement, before it had travelled twenty yards. The Inspector had failed to take this into account.
Comments by JJP, 2nd July 2017
Ste Wigan, I'm sure you are right about the Ford Escort being a Panda car, this model (if memory serves me well) was introduced after the last of the Anglia's, starting in 1968 G reg so, this pic can be dated around 68/69 I would have thought. I bought a retired one from Lancashire Police sales, gave £400 for it, cracking car, kept going for years. Another great photo Frank - Thanks !.
Comments by Carolaen, 2nd July 2017
Mick. Thanks for that info. I moved away from Wigan in 1970 but when visiting Mum and dad I would walk up King Street Darlington Street from Wigan North West Station and pass the pepper Mill and see the boat and be bemused. Nice to hear that it eventually escaped and presumably went to sea somewhere.
Comments by Maggie K, 2nd July 2017
I too bought dresses from A & L Smith and my dad worked at the gas works. We watched the Whit walks from outside the pub.
Comments by Colin Harlow, 2nd July 2017
Ste Wigan...yes Ford Escort Police Panda car. The other photo of Frank's shows an earlier date, Two Ford Anglia Police panda cars. The Escort replaced the Anglia, around 1968.
Comments by Alb, 2nd July 2017
Great photo. Wigan when it was a proper Lancashire town and not a clone of any other town in the country full of the usual blandness. I bet that Ford Escort would be worth a fair bit of money today if it's a sort after model, some of which are fetching 30 grand or more. So too would that Reliant Regal which are quite rare now among Reliant 3 wheelers.
Comments by MikeW, 2nd July 2017
My Dad had a brand new Ford Escort in 1971. It failed its first MOT at 3 years due to rusty sills.
Comments by Ste Wigan, 3rd July 2017
JJP and Colin Harlow......thanks for that
Comments by Jack, 3rd July 2017
When Wigan got Ford Escorts they sent three Anglias to Skem which was part of Wigan Division. They were well passed their best but a 3rd class ride was better than a 1st class walk especially on a cold night.
Comments by Josh, 3rd July 2017
A distant memory from the 1940ís was my curiosity, as a 5 year old, as to why there was a long queue of people outside the butchers shop which was situated in the block of buildings on the left of this photo. The reply was that they were waiting to buy the horse meat that was being sold, presumably it was more freely available, (a guess) than conventional meat which was severely rationed.
Comments by Martin, 6th July 2017
Can anyone advise if Keys boutique (army surplus) was in any of the buildings in the Photo?
Comments by RON HUNT, 6th July 2017
Kays was further round the corner towards the town center practically opposite Harrogate Street
Comments by Maureen, 6th July 2017
Does anyone remember Mary and Danny Collins pet shop that was direct facing Kay's shop.
Comments by RON HUNT, 6th July 2017
I can vaguely remember the pet shop, was it next door to a second hand book shop, which had a big wooden carousel in the window. It was made by the guy who owned the shop. I can remember watching him carving the horses.
Comments by Maureen, 6th July 2017
Ron the pet shop was on the very corner of Harrogate St..I can't remember what was next door though..Im talking about the mid 70's.
Comments by Mick, 6th July 2017
Ron - I seem to remember the chap in the bookshop also made a model of a Ferris wheel, which he displayed in the window. I still have books I bought from him over forty years ago.
Comments by Garry, 7th July 2017
Kays was on the left hand side where the big gas tank is.
Kays shop stood where the car park is now.
Comments by Ben, 9th July 2017
The gasometer also marks the area that has been identified as a Roman Burial Site on old maps of Wigan
Comments by AH, 19th July 2017
part of the stone wall on the left is still there today
Comments by Gerry, 9th August 2017
That's a reliant regal 21E in the centre of the picture. 21E meant it had 21 extras......can i assume the houses are the ones that Georger Orwell lodged in?
Comments by Mr X, 20th August 2017
A Reliant Regal is going across the junction of Warrington Lane with Darlington Street. The Foundry pub is on the right where Lidl supermarket is now. Wigan had and still has three gas holders, this one almost full is the largests, with another one, much smaller. The third is located on the other side of the main railway line.