| | | |
| --- | --- | --- |
| Ripponden & District | | Views: 871 |
| Leyland Van | | Comments: 9 |
| Photo: Ray Smyth Item #: 30252 | | |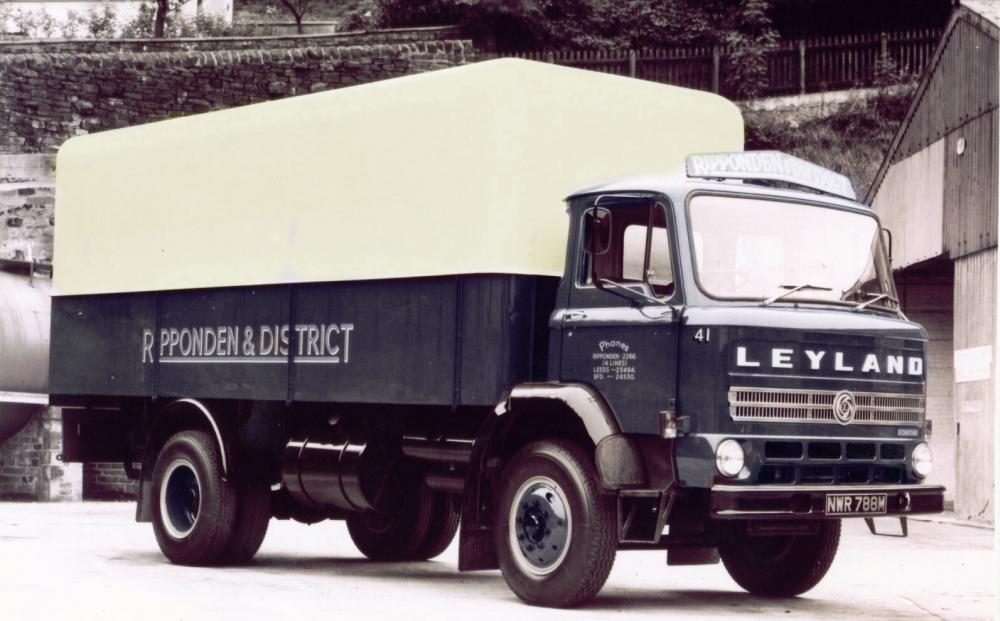 | | | |
| --- | --- | --- |
| | Image scaled down from 1000px to 621px wide | Click here, or click the photo to view original |
Ripponden & District were a parcel carrier
dating back to 1925. Their distinctive blue
and cream vans were a regular sight in Wigan
and the surrounding area, delivering parcels
to many factories and offices, where many of
the readers of Wigan World would have worked
over many years. The company was based in the
village of Ripponden in Yorkshire.
Comments by . Ozymandias ., 2nd March 2018
You don't suppose you're pushing your luck a bit here do you Ray by posting a photo of a Yorkshire wagon on Wigan World?, you know what some of 'em can be like on here. It's a good photo though of what appears to be a brand new motor. We scrapped quite a number of Ripponden's motors, but the bodies, which they made themselves incidentally, consisted mainly of plywood and fibreglass and therefore had no scrap value. I ended up donating many of them to the pigeon fanciers in the area. In fact, there are still the disintegrating remains of one of them, that I gave to Frank Oulton, rotting away at Simms Lane End. I used one as a shed on my rented allotment for many years until I was forced to clear off. I suppose there's a remote possibility that this could have been the actual body that I ended up with.

Regards. Ozy
Comments by JJP, 3rd March 2018
Sadly Ray, this parcel delivery outfit ceased trading some years ago. When I worked for White Star Carriers I often met these boys delivering the same places. In the 1960s I did the night trunk to Leeds on occasions via the A58, no M62 those days and we passed Ripponden's yard on the way across them there hills.
Comments by Howard P, 3rd March 2018
I suspect this is more of a truck than a van.
Nothing at all to do with Wigan.
Comments by Ray Smyth, 3rd March 2018
Howard, If you have not already got one, get yourself a copy
of "The Concise Oxford Dictionary", and have a squint at the
word "Van". A van is "A covered vehicle for conveying goods"
With regard to the Wigan connection, these parcel carriers delivered to, and collected from many firms in the Wigan area, including H.J.Heinz, Bulldog tools, Potters Herbal Remedies, to name but a few, for more years than you or I can remember. Still waiting for some of your pictures to appear on here.
Comments by DTease, 3rd March 2018
Night night Howard.
Comments by . Ozymandias ., 3rd March 2018
Speak of the devil and he'll appear.
Comments by Veronica, 4th March 2018
I suspect Howard has been on holiday and he couldn't wait to get back to the truck photos!
Comments by Howard P, 4th March 2018
I suspect you're right Veronica.
But I am not very happy with all the HGV diesel fumes about. Put it all on our railways.
Comments by Veronica, 4th March 2018
Well Howard have you been shopping since you got back- the shelves have been getting low with this bad weather- up and down the country - this is when you know how we need the lorries for deliveries.