| | | |
| --- | --- | --- |
| Railways | | Views: 1381 |
| Bradley 52 years on! | | Comments: 7 |
| Photo: Mick Langton Item #: 29683 | | |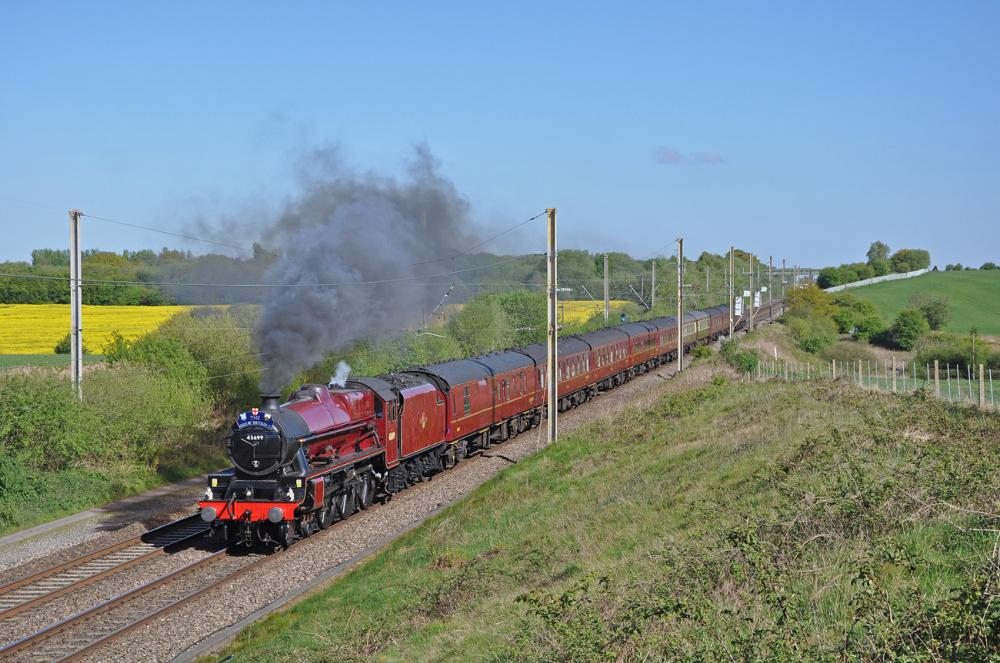 | | | |
| --- | --- | --- |
| | Image scaled down from 1000px to 663px wide | Click here, or click the photo to view original |
| | | |
| --- | --- | --- |
| | Not sure if this allowed but posting as a comparison to Barrie's photo of Bradley. Taken from the same spot some 52 years later! | |
Comments by Barrie, 26th August 2017
That is a cracking photograph and if the 2 are put side by side one can see the changes over the past 52 years.Main one is the trackside width has been reduced and nature has taken over adjacent either side with the 2 bridges in the distant (Coppull Moor & Platt Lane?) being alsmost hidden. The Steam train excursion takes you back to those years of 1960-65.
Comments by Bradlier, 26th August 2017
It is Hic Bibi not Bradley,
with the Nature Reserve on the left.
Comments by Albert., 26th August 2017
I suspect many a national serviceman will remember travelling on these type of trains in the fifties. Spending hours in the waiting rooms for your next connection, eating a cheese and tomato sandwich, with curled up corners, plus, in winter, watching the dying embers, in the fire place. Happy days.
Comments by From Where, 26th August 2017
In the flame I see your name as the cold barrow winds go by me.
But remember this , as the embers die , I tell no lie, the warming is you and me... forget , I will not , Burn flame, or die , make your choice , mine can't be extinguished, for within the cold and barrow wind or the falling light,
as rich glow hits my face and warms me, I wonder and ask , about them,
my dear dear friends ..
Comments by AB, 26th August 2017
When started work in the late forties we travelled by a special train to on this route Leyland Which stopped At Boars Head,Standish,Coppull and Balshaw Lane all within a half hour journey HIC Bici was then a sand pit with a row of railway wagons jn a siding
Comments by Alan lad, 30th August 2017
Is Bradley Lane bridge the next bridge behind us after the one this photo is taken from ?
Comments by Mick, 30th August 2017
Alan lad, The bridge this is taken from is near to Talbot House Farm, now a cattery and kennels. Heading south the dirt road crosses the line again before joining Bradley lane near the now closed Crown Hotel. See link.
http://www.streetmap.co.uk/map.srf?x=357407&y=411331&z=110&sv=bradley+lane&st=6&tl=Map+of+Bradley+Lane,+Standish,+Wigan,+Lancashire,+WN1&searchp=ids.srf&mapp=map.srf