| | | |
| --- | --- | --- |
| British Railways Wigan | | Views: 1163 |
| Sunday 28-03-1965.-Bradley (near Standish station that was) | | Comments: 12 |
| Photo: Barrie. Item #: 29681 | | |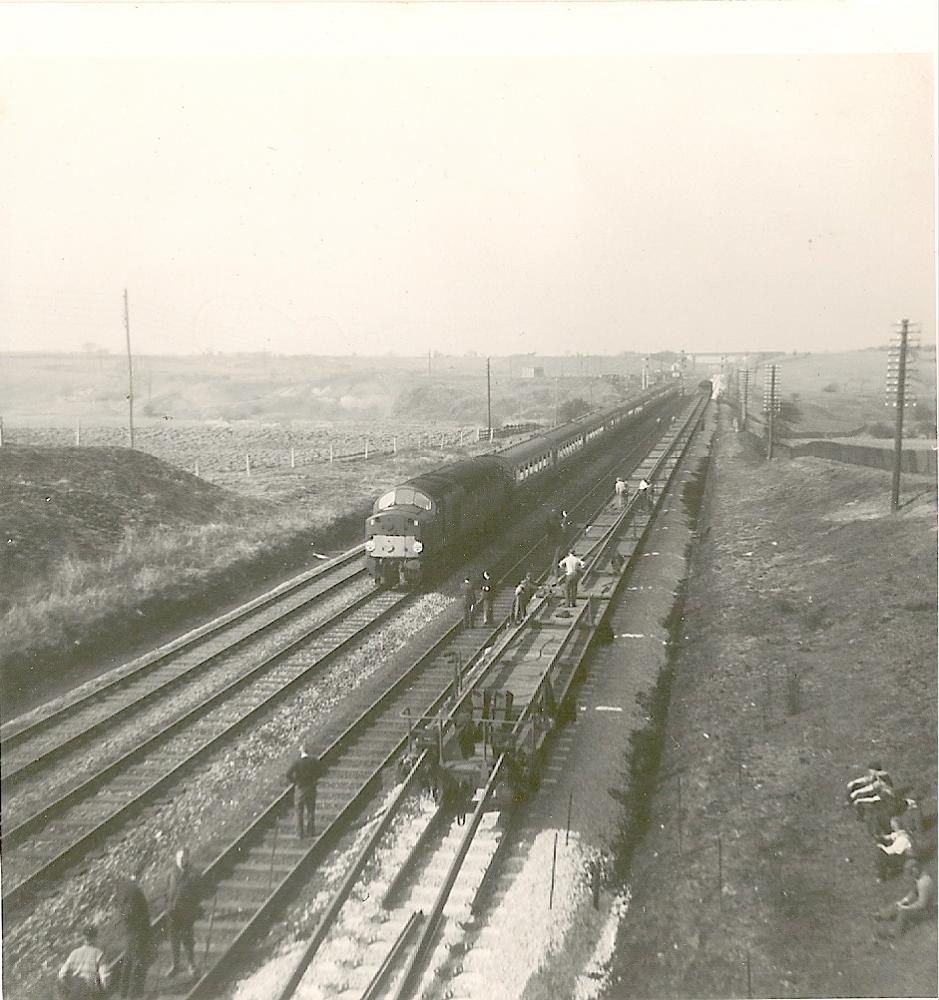 | | | |
| --- | --- | --- |
| | Image scaled down from 939px to 1000px wide | Click here, or click the photo to view original |
Is this the start of the upgrade to the WCL ? BR workmen laying the continuous type rail (welded) as a Glasgow-Birmingham train slowly passes them.
I was out walking between Rectory Lane and Bradley lane at the time.( the weather was Sunny and hot for the time of the year)
Comments by Garry, 25th August 2017
It was actually Boars Head station, it open in 1869 and closed in 1949. Nice one Barrie.
Comments by Philip Cunliffe, 25th August 2017
Out of interest could someone tell me the location of the large bridge in the distance. I cannot place it.
Comments by Pw, 25th August 2017
No hi vis in those days.These days you have to wear full hi vis,not nice in hot weather but a lot safer .The lads on the bank are no doubt enjoying a well earned rest.Good photo Barrie,I have some good memories of working for B.R.
Comments by Owdbill, 25th August 2017
The large bridge in the distance is alongside Hic Bibi nature reserve in Coppull Moor.The nearest station was Standish Station in Rectory Lane.Boar's Head station was a further mile beyond Standish Station towards Wigan
Comments by S&T Man, 25th August 2017
This is not Boars Head, this is actually in the Standish area (& taken north of Standish Station) & north of Bradley Lane.
This is taken from off an overbridge that carries a dirt track road that branches off Bradley lane near to the crown hotel.
The dirt track road over the WCML line eventually leads to Talbot House Boarding Kennels at Coppull Hall.
The view is looking north towards Coppull Hall...
In the distance you can see Coppull Hall Sidings signalbox on the left ....the box at Coppull Hall Sidings was last switched out on the 17th December 1969, (but was not officially abolished until the 17th January 1970) when the block sections were extended between Standish Junction & Blainscough Sidings signal boxes.

Looks like the up fast & down fast lines are being relaid.
Comments by Garry, 25th August 2017
Sorry all, I thought it was Boars Head.
Comments by Mick, 26th August 2017
EE class 40 on the up slow, rails being renewed on the up fast. Slow lines long gone.
Comments by Ray Smyth, 26th August 2017
As daft as it may seem, At this location, the line "Down"
to London is the "Up" line, and the line "Up" to Glasgow
is the "Down" line. Railway people and Railway Enthusiasts
will know why.
Comments by Alex, 26th August 2017
Good point, Ray. Why are they called slow lines and fast lines. Is the fast lines perfectly straight????
Comments by S&T Man, 27th August 2017
The difference between fast & slow lines can sometimes be line speed but can also be something as simple as only the slow lines will serve local station platforms, the fast lines will not & will therefore be used for non stopping express traffic (hence fast lines)...
A good example of this is just up the line at Euxton Balshaw Lane station, where the slow lines diverge off to serve the station & the fast lines go straight through (avoiding the station) so that expresses can speed through unhindered.
Generally it is often UP direction to the principle city & HQ of the old railway company, (in this case the LNWR at London Euston, so hence UP to London)...DOWN to Scotland.
One of the idiosyncrastic ways that our railways are defined.
Comments by Barrie, 27th August 2017
Looking back at my '65 diary, having watched the activity, I crossed over the bridge and walked a footpath that went round /through the sand quarry(pits) coming out near Pepper Lane jct with Preston Road. Can anyone say when the nature reserve further up was formed? I know my dad complained to the Standish council in the 1970's about the landowner blocking off public footpaths in that area-he used to walk them at least once a year.
Comments by Alan lad, 30th August 2017
Barrie I walked that footpath many atime it took you through Jem Glovers farm onto the Four Lane ends ,owd Jem would plough the footpath up int 50/60s.