| | | |
| --- | --- | --- |
| MINERS | | Views: 1307 |
| Striking Miners 1921 | | Comments: 6 |
| Photo: RON HUNT Item #: 29589 | | |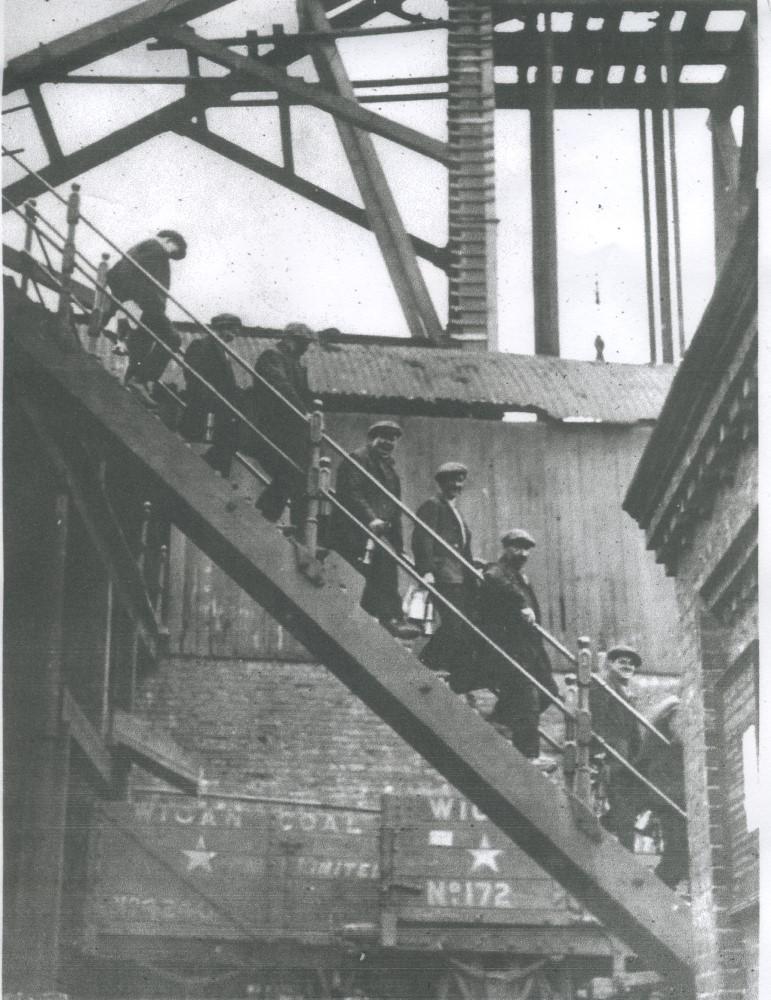 | | | |
| --- | --- | --- |
| | Image scaled down from 771px to 1000px wide | Click here, or click the photo to view original |
This photograph appeared in an American newspaper with the following caption.
"This is one of the first photos to arrive in this country showing some of the striking miners leaving the WIGAN pits at Daisy Hill Lancashire England, in response to the orders of the union leaders. The loss to British business as the result of the strike already runs into the millions" Dated 20th April 1921.
Comments by Albert., 22nd July 2017
The photograph shows all of them wearing cloth caps, and obviously coming down from the pit head, after coming up from the depths of the pit. The pit helmet save me a severe head bang on numerous occasions. Just oil lamps to illuminate their passageway,and working positions, whilst down the pits, though they do appear to be the Davy safety lamp. Such arduous, and dangerous work for just a pittance of a wage.
Comments by GW., 22nd July 2017
Great photo Ron. Good to see folk at any time standing up to intolerable conditions. We all owe them some debt of gratitude.
Comments by Chris Southworth, 22nd July 2017
Interesting photo. That pit would be Eatock Colliery at Daisy Hill, Westhoughton. Owned and sunk by Wigan Coal and Iron Company in 1884 and closed in 1936. However, how the caption can state that they are striking miners, I don't know. Those fellas are just up the pit after their shift underground. That's why some of them are smiling for the camera.
Comments by TD,., 22nd July 2017
Albert - Pittance it certainly was and many deaths that took place on a weekly basis, were not recorded among the official disaster inquiries. The Coal Mining History Resource Centre web site, maintains the National Database of Mining Deaths in Great Britain and contains the names of over 120,000 people killed in mining accidents from 1850 to 1972. Probably an even greater amount of colliers received life changing injuries, not always recorded and many families endured the suffering, not forgetting the number of colliers who eventually gasped their last breath, with lungs rotted by the terrible dust and without compensation. No wonder only a few years earlier to the date on the photo, many volunteered to serve in the trenches to escape the hell!
Comments by Thomas(Tom)Walsh., 23rd July 2017
Very moving comments. WHAMM age fund raising to have a monument in Wigan , to men women and childeren who work and died in local mines.
Anyone wishing to donate can find the details on the web site , WHAMM.
Comments by Jarvo, 25th July 2017
Many happy faces here. I don't think this lot are downing tools...