| | | |
| --- | --- | --- |
| Police | | Views: 1721 |
| POLICE PANDA CARS | | Comments: 15 |
| Photo: Frank Orrell Item #: 29526 | | |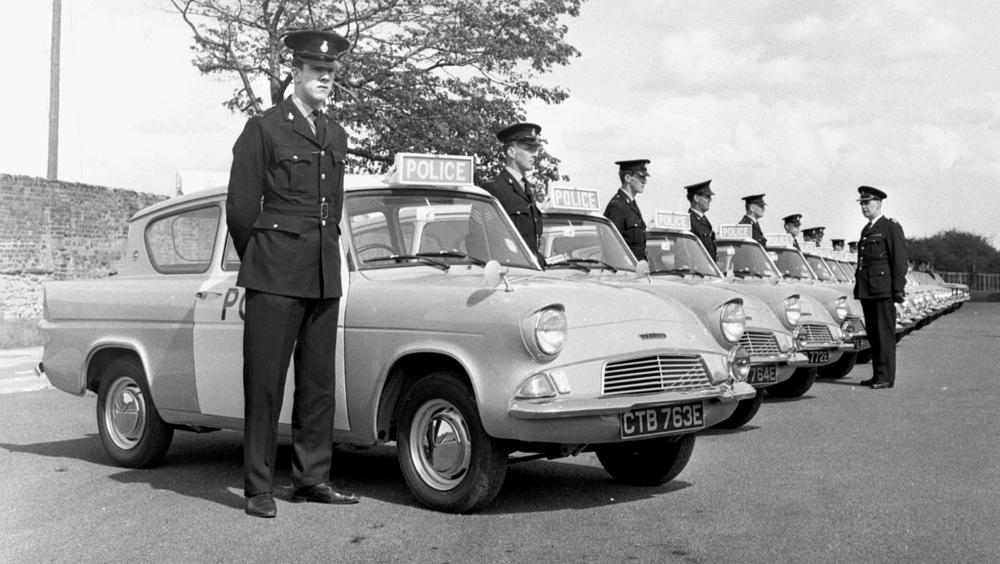 | | | |
| --- | --- | --- |
| | Image scaled down from 1000px to 564px wide | Click here, or click the photo to view original |
| | | |
| --- | --- | --- |
| | The discussion about police panda cars prompted me to post this one from 1967 of Wigan police with their new Ford Anglia Panda cars. | |
Comments by Mick, 2nd July 2017
Frank - if this photo was taken in 1967, Wigan was still served by the Wigan Borough force, and the officers pictured are Lancashire Constabulary officers.
The vehicle registration letters 'TB' visible on the nearest car also relate to what was at this time, a 'generic' Lancashire registration, rather than the 'EK' registration of the Borough force vehicles.
An interesting photo, nonetheless.
Comments by Albert., 3rd July 2017
Frank. Is your dad Roy Orrell, who was in the Wigan Borough Police?.
Comments by Brian, 3rd July 2017
I think this photo was taken at Lancashire police headquarters at Hutton near Preston. I've got a picture like it taken from the other end of the line of cars.
Comments by Keith Beckett, 3rd July 2017
The letter E of the car registration is for the 1967 year.
Comments by Albert, 3rd July 2017
Mick. Didn't Lancashire Constabulary take over Wigan Borough Police, sometime in 1969?.
Comments by Valerie Bradshaw, 3rd July 2017
Roy Orrell became a security guard (along with Fred Dyke) at Brocol House. Both now deceased. I think Roy had a daughter, Fiona.
Comments by AH, 3rd July 2017
mick:you are correct TB was a Lancashire county reg: E was 1967 : wigan at this time had two regs: EK & JP.
Comments by Mick, 3rd July 2017
Albert - yes, Wigan Borough was amalgamated into Lancashire Constabulary on 1st April 1969,some two years after this photograph was taken.
Comments by Philip Gormley., 3rd July 2017
The jacket and trousers still have 'that somethin' ... Art Deco Gill Sans Spitfire design ... .
Comments by Ray, 3rd July 2017
Regarding the Number Plates on the Ford Anglia cars,
well spotted to Mick, Keith,& AH. However,unlike the
A,B,C,&D suffix letters that ended on December 31st of
each appropriate year,the E Suffix letter ended July 31st
1967. I bought a new Ford Anglia 105E in November 1967,from
Forward Motors at Skelmersdale,and its Reg.No.was GTE 928F.
Comments by Frank Orrell, 3rd July 2017
Sorry for the confusion I might have caused over the panda car picture. It was one that I found in the Wigan Evening Post archives and the info on the back seemed to indicate that it was a Wigan picture.
Albert, Roy Orrell wasn't my dad and not a relative of mine.
Comments by Mick, 3rd July 2017
Frank - since my intial comment above, I've done a bit of digging, and found that in May 1967, Lancashire Constabulary Chief Constable Bill Palfrey purchased 175 Ford Anglias for use as panda cars, and held a publicity event at the force HQ at Hutton, where all the vehicles were displayed.
This would seem to fit in with your photo.
Comments by Alb, 3rd July 2017
I wonder how many of those Anglia's still exist?, likely none and all rusted away long ago. I heard in some police forces they used MGAs, among other odd choices, and even in one force used an E-Type.

Those were the days when police were police and did their job. Now they're more like the military with dangerous tasers behaving like thugs.
Comments by AH, 5th July 2017
Ray:you are correct the reg: did change later in they year
Comments by Pete Schofield, 23rd July 2017
Wigan Borough Police introduced Unit Beat Policing in October 1967 and for this they used Ford Anglias from reg EJP 11F to EJP 20F inclusive.(EJP 17F was the inspectors car and was unmarked) Wigan Borough was split into 6 Panda area beats 3 on the north of town and 3 on the south of town all supported by an area constable. There was also the General Purpose Vehicle used to carry prisoners and dedictaed motor (traffic) patrol officers also on patrol. The Town Centre was split up into 5 walking beats . The Vehicles used as panda cars apart from EJP 17F had the letters WB on each of the front doors to distingwish them from the Lancashire Constabulary panda cars