| | | |
| --- | --- | --- |
| Eckersleys Mill | | Views: 1630 |
| BREW TIME | | Comments: 7 |
| Photo: RON HUNT Item #: 29492 | | |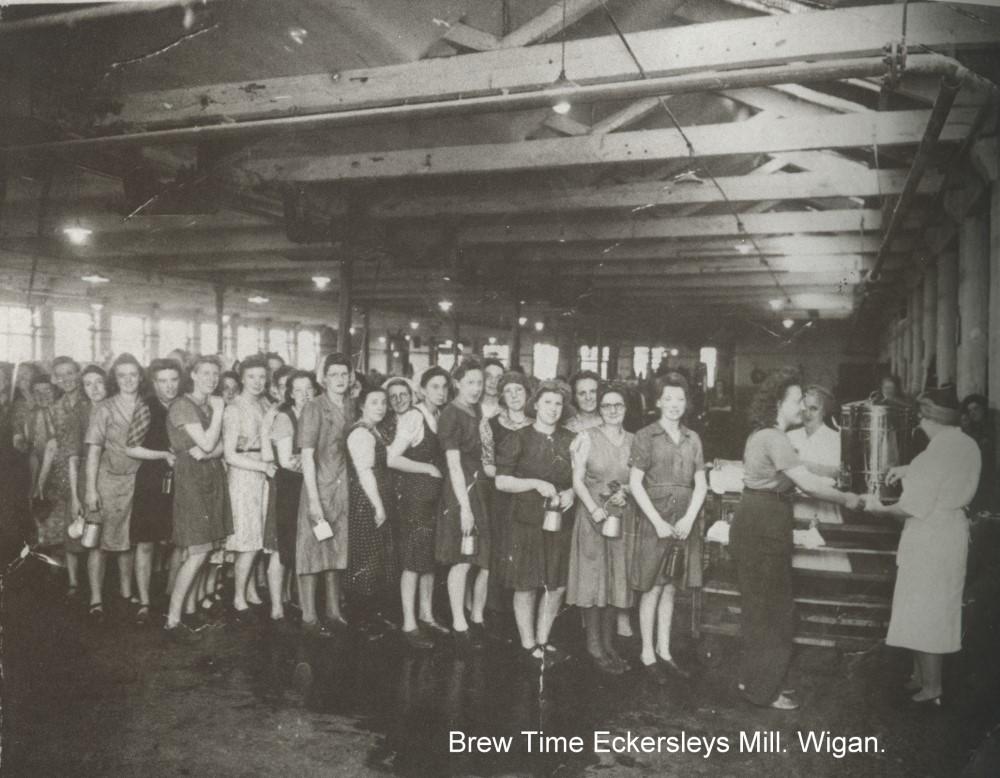 | | | |
| --- | --- | --- |
| | Image scaled down from 1000px to 778px wide | Click here, or click the photo to view original |
| | | |
| --- | --- | --- |
| | Mill girls queue for their tea, break in the canteen at Eckersleys Mill 1940's | |
Comments by Albert., 30th June 2017
Shouldn't have fancied being the last in the queue. I wonder how they stopped the outlet,from getting blocked?. No teabags then, unless it was hot water poured onto the tea leaves, in the cups.
Comments by Veronica, 30th June 2017
I've looked for my mam - can't see her I know she worked here in the 40s. It looks very hygienic with the serving ladies in their white overalls and turbans.
Comments by irene roberts, 30th June 2017
My Aunty Mary worked here and told me the girls used to set each other's hair with sugar and water.
Comments by Elsie, 1st July 2017
Billy Cans at the ready how times have changed.
Comments by Ellen, 2nd July 2017
Irene,I remember my Auntie Margaret, my Mother's youngest sister,used to set her hair with sugar and water. This would have been during the second World war,probably about 1943/44.she was unmarried at the time and still living at home.She was probably home from being in the Land Army!Isn't it curious how a random remark triggers memories like this?
Comments by irene roberts, 3rd July 2017
It certainly is, Ellen. I love to share memories, or relatives' memories, with others on here. I think they would have been pleased.
Comments by Derek Callaghan, 7th July 2017
Veronica. I also looked for me mam. She was at Eckersleys from mid forties to early fifties. If there's a brew going she's normally at front of a queue. Not this time though.