| | | |
| --- | --- | --- |
| Kwik Save Ashton in Makerfield | | Views: 998 |
| Happy Days, | | Comments: 13 |
| Photo: walt(north yorks) Item #: 29392 | | |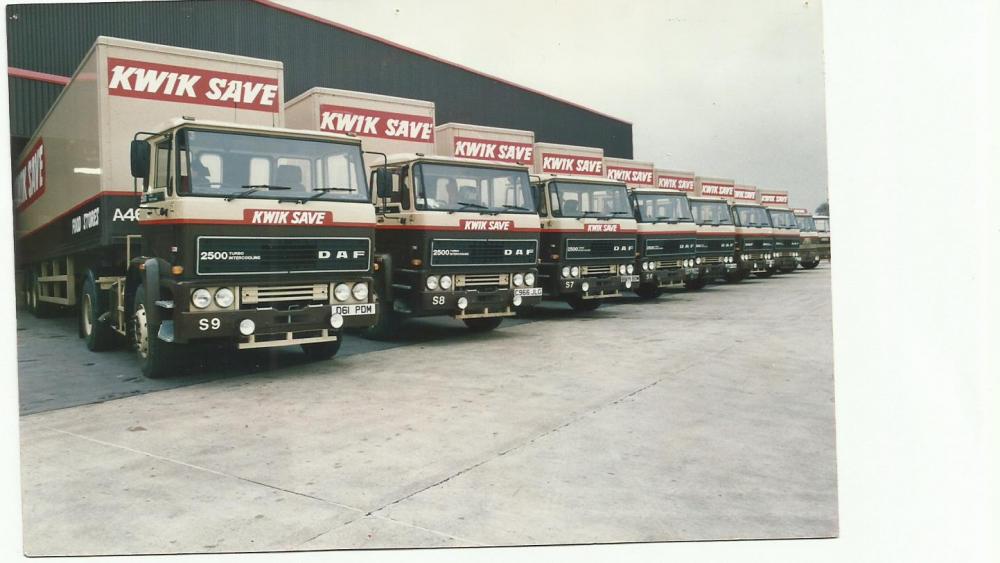 | | | |
| --- | --- | --- |
| | Image scaled down from 1000px to 563px wide | Click here, or click the photo to view original |
| | | |
| --- | --- | --- |
| | For Colin and D C, remember when you guys prepped these. Photo taken circa 1987 great times sadly missed. | |
Comments by Derrick Cunliffe, 31st May 2017
Hi Walter We will never forget prepping these trucks Kwik.Save. was the best job we all ever had I wish they were
still going thanks for the great memories Walt D.C.
Comments by bert, 1st June 2017
hi walt nice to see you are still going.it was typical of kwik save all the wagons lined up .drivers brewing up while warehouse staff where working there socks off.ha ha .
Comments by Garry, 1st June 2017
I remember these in Lower Ince store. They look a nice and tidy outfit.
Comments by walt(north yorks), 1st June 2017
Hi Bert, yes I'm still going strong though long ago retired and its good to know you are still around also. Long time now since I last saw you - almost 34 years would you believe. D C, just a few days ago I bumped into someone from the old days and like you and I he said " Good Times Were They not" Glad you like the photo !!!.
Comments by walt (north Yorks), 1st June 2017
Gary, you are right they were always kept very clean and tidy and thanks to a great garage team they were always looked after to the highest standard. One belief Kwik Save had - was - without the trucks deliveries to stores would be seriously effected and so no expense was spared.
Comments by Colin Harlow, 1st June 2017
Great photo Walt. Yes I too remember PDIs these new Dafs for Yorkshire at Ashton garage, as well as fitting spotlights, cat-walks and the nudge bars under the bumper bar to protect the radiator. I've always said Daf trucks were perfect for Kwik Save, the group being the best customer and largest operator of Daf trucks in Britain at that time. I think everyone who worked for Kwik Save have some special memories of the company what ever depot they served, because from management to staff it was one big happy family of friends and workmates.
I see a trailer from Ashton coupled under D61PDM.
Comments by Howard P, 1st June 2017
I suspect an in-house operation.
Comments by DerrickCunliffe, 1st June 2017
Gary You've never seen these trucks in LOwer Ince because
they operate from Sherburn in Yorkshire they look good because they are brand new put brain in gear before opening
mouth Gary D.C.
Comments by Garry, 2nd June 2017
No not these particular trucks, but the ones from Bryn.
Derick I'm not stupid.
Comments by Alf Bimpson, 2nd June 2017
Very nice outfit.
Comments by walt (north Yorks), 2nd June 2017
Gary, just to clarify the reason these vehicles have the right to appear on WW. Beginning in the summer of 1983 a decision was taken to expand the operation covering the north east. A satellite depot was established some 15 miles east of Leeds with the manpower and vehicles being supplied from Ashton in Makerfield, this relationship lasted some 3+ years until the new depot finally became self sufficient in 1987. Until then - six nights per week each of these vehicle made two trips to Wigan and throughout the day made two trips to the north east approximately 600 miles in each 24 hour period. Being totally reliant on a splendid crew in the garage at Ashton for maintenance until finally a garage was established in Yorkshire. So, before anyone asks if this is a photo that should appear in WW my answer is yes of course, Yorkshire depot was totally reliant on Wigan for a long time.
Comments by Colin Harlow, 2nd June 2017
As a Wiganer, this photo is superb, Kwik Save was part of my working life for many years and have fond memories of Ashton depot and indeed Sherburn in its early years. I can't praise the company enough it was fantastic.
Walt thank you for showing, for me it's part of Wigan because it has the Wigan connection.
Cheers pal.
Comments by Dave Burrow, 29th July 2017
Bloody hell what a pleasant surprise. I worked at Tipton in the 70's, 80's and 90's. I repaired a few of the old Seddon's and DAF's there plus rebuilt and resprayed a lot of the DAF's. Yes they were good times. I'm still angry at the way it all went, bad management killed it. It all went downhill after Dairy Farm took over. Lovely to see you blokes here.