| | | |
| --- | --- | --- |
| Maypole Pit Disaster Aug 18th 1908 | | Views: 1478 |
| Newspaper cutting | | Comments: 8 |
| Photo: RON HUNT Item #: 28146 | | |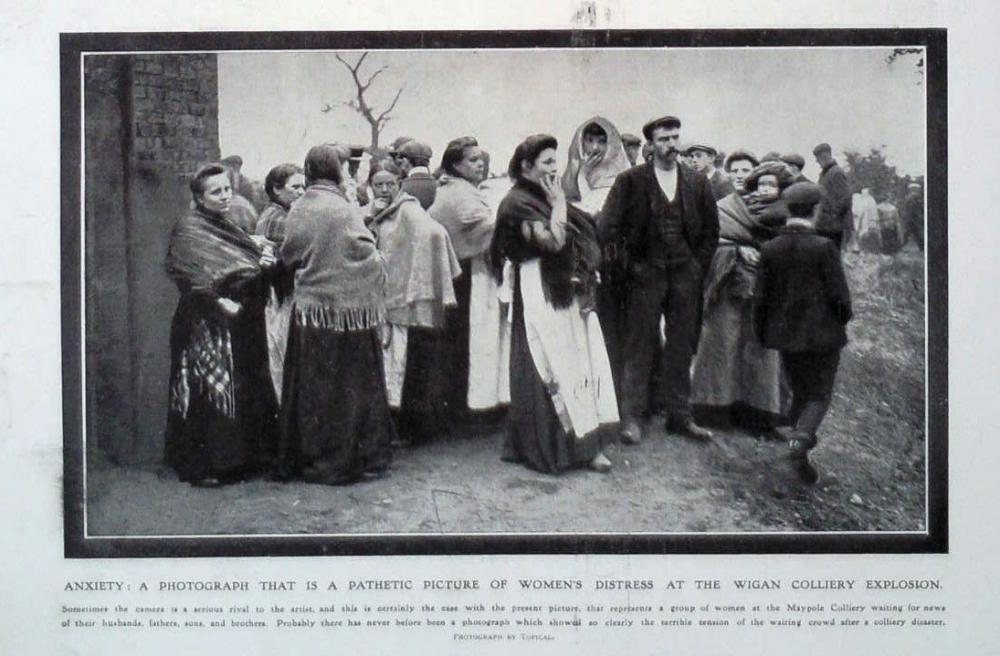 | | | |
| --- | --- | --- |
| | Image scaled down from 1000px to 656px wide | Click here, or click the photo to view original |
| | | |
| --- | --- | --- |
| | Newspaper/magazine cutting showing the relatives waiting for news, after the Explosion. | |
Comments by irene roberts, 15th July 2016
I live in Abram. It brings home the enormity of the Maypole Disaster to see these Abram people anxiously waiting for news near the pit.
Comments by Albert., 16th July 2016
The wearing of shawls were a common feature into the forties. They must have been a very comfortable, and warm item of clothing, and convenient for wrapping the baby in. I remember many women wearing a shawl.
Comments by irene roberts, 16th July 2016
The above photo would have been 1908, Albert, but women did wear shawls much later. My Mam had me in 1952 when she was 42 years old, and carried me in a shawl as she had with my brothers, 19 and 12 years my senior. I never had a pram; my Mam wrapped the shawl around her shoulders and I was enveloped in it. I still have the shawl.
Comments by henry7, 16th July 2016
Very moving photo, they must all have been so anxious. I remember a few of my aunts wearing shawls well into the 1950's. Irene, that's really nice that you have kept your Mother's shawl.
Comments by Maureen, 17th July 2016
I know it's hard to believe,but I distinctly remember being wrapped in my Grandmas shawl..and the lovely feeling of being warm and secure.
Comments by irene roberts, 17th July 2016
Maureen, did you get my email re the inkwell? Ozy brought it for me and it looks lovely on my fireplace.
Comments by Maureen, 17th July 2016
Irene..I did,and I bet it looks very nice too...he's very kind isn't he.
Comments by ena lea, 2nd July 2018
My grandma Helen Green was aged 4years and her sister Jane Green would have been 6years old at the time of the disaster, their brother a miner at the pit was injured and later died of his wounds. There is a memorial in Abram Church yard for the men who lost their lives in the disaster. Their father Aaron Green also worked at the pit as did their younger brothers when they where old enough.