| | | |
| --- | --- | --- |
| Railways | | Views: 2708 |
| Hilton House signal box and station - then and now | | Comments: 6 |
| Photo: Dave Taylor Item #: 15721 | | |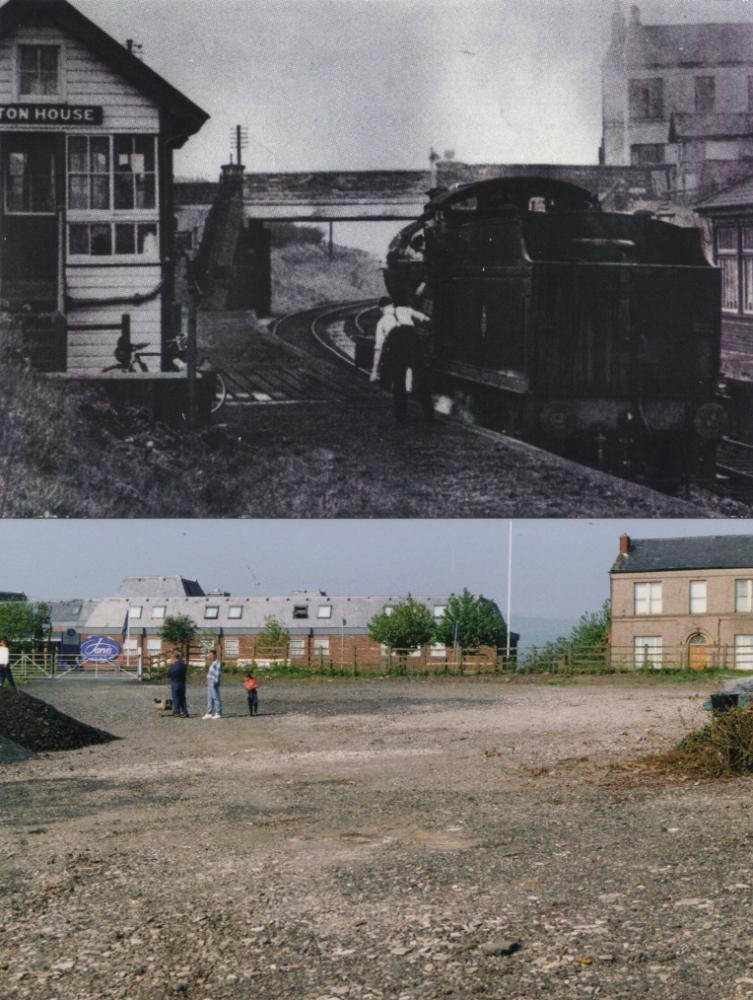 | | | |
| --- | --- | --- |
| | Image scaled down from 753px to 1000px wide | Click here, or click the photo to view original |
| | | |
| --- | --- | --- |
| | Kindly provided by my signaman friend Harry Gardner, this is a "then and now" taken from the same spot as item No. 15719. The later pic taken by Harry around the late eighties/early nineties. | |
Comments by ROBERT, 5th September 2010
CAN'T FIGER OUT WHERE THIS IS.... PLEASE HELP.
Comments by SJB, 5th September 2010
That's the A6 road going over the railway bridge Robert. It's where Georgian House is near Aspull/Blackrod. Go through Aspull, past the war memorial on the island straight across and straight on down Scot Lane - turn right at the end of Scot Lane and you come to traffic lights on the A6. Turn right again and Georgian House is almost immediately on the left - and the photo is just after that.

The big detached building in both photos is right on the roadside - there's a small section of stone bridge wall still there next to it.
Comments by Andrew Lomax, 5th September 2010
Progress :-)
Comments by sjb, 7th September 2010
Progress indeed Andrew

I regularly travel to Tyldesley from Wigan through Hindley - a journey I could have taken by train 50 years ago. Instead, thanks to successive government policies over that period, I spend a good portion of that time sat in a seemingly continuous traffic jam.
Comments by Steve Worthington, 8th September 2010
And in a cruel twist of irony, virtually all of the track bed is still there.
Comments by Robert, 22nd June 2018
The signalman's name is Jack Clarke.
He's collecting the signal box water ration that was delivered by loco along with the ration for H&B Branch Junction.