| | | |
| --- | --- | --- |
| Railways | | Views: 3268 |
| Haydock Chord Junction | | Comments: 6 |
| Photo: Dave Taylor Item #: 15577 | | |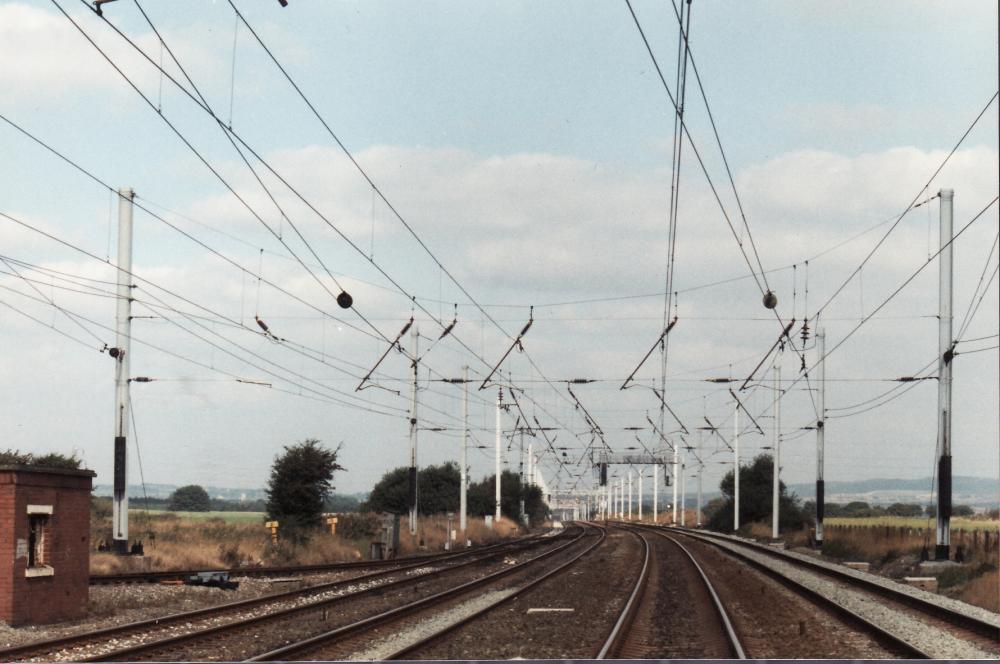 | | | |
| --- | --- | --- |
| | Image scaled down from 1000px to 664px wide | Click here, or click the photo to view original |
View looking north from what is now known as Haydock Chord Junction, Golborne. The chord line departing left behind the Permanent Way cabin serves to connect to the original GCR branch from Lowton St. Mary's Jct. to St. Helens. Originally, the GCR branch ran behind us and crossed over the four roads of the WCML. When it was closed beyond Haydock in 1952 it was left as a short branch from Lowton St. Mary's Jct. to Edge Green lane sidings for colliery traffic, and Ashton in Makerfield for Lowton metals.
Eventually in 1969 Edge Green Lane sidings closed along with the last of the collieries in the area (the last bit of the GCR Wigan Junction railway and its associated branch to St. Helens to close) leaving just the sidings at Lowton Metals and Kelbits on the site of Edge Green colliery needing rail access. At this time the large GCR overbridge was removed from over the top of the WCML not least in anticipation of the forthcoming electrification of the WCML. Removing the overbridge would make life much easier for BR Senior Construction Inspector Arthur Hubbard and the Pirelli engineers to run the wire through the area previously under the bridge. In order to provide a service to both of the remaining goods users: - Lowton Metals at Ashton in Makerfield, and Kelbits sidings for bitumen traffic, this chord was put in off the Down Slow.

Peter Abbot who was the safety and training facilitator at Wigan OHL depot at that time, took this photo to illustrate an un-insulated overlap in the overhead traction equipment for some purpose or other, and later gave the photo to me. The Permanent Way cabin on the left has long gone, although I once took shelter from a heavy downpour in there with LE 2 Frank Hewitt many moons ago when we were foot patrolling Golborne Jct. to Wigan! In the good old bad old days you would have also been able to see the two iron footbridges over the line; one here at Golborne and the other further down at Aye Bridge farm. Circa early 1990's

Comments by Robert, 28th August 2010
The government have strong views about going green and fuel economy vehicles, ie diesel fuel uses much less to the gallon than petrol engines. As anyone in the railway industry ever worked out the cost against gas-oil fuel and electrical driven trains. There are still (I think) more diesel powered trains than there are electrical powered. I know the electrical trains are the cleanest for the environment....what do you railway guys think ?
Comments by Thomas, 28th August 2010
The Kelbits bitumen works is closed, the site is now a concrete/cement maker works. I can't think who the firm is and I'm not sure if they use the railways, plenty HGVs go to and from the site.
Comments by Dave Taylor, 28th August 2010
I think it may be part of the Hanson group, and I am relaible informed that there is still a rail service (stone train) albeit not necessarily weekly.
Comments by John Webster, 9th February 2011
Kelbits (aka Kellys Bitumen)site is now owned by Hanson Aggregates but does not have any railborne traffic - indeed, there is a sign on the service road leading to the site advertising "facilities for sale including rail connection"!
Comments by Deb., 5th January 2012
Strange there`s no mention of the Haydock Oil terminal: at it`s peak (mid/late 70`s to early 80`s) handling over 2 million tonnes of oils a year. The heavy oil grades being brought-in by rail from various refineries via the Haydock chord.
Comments by Dave Taylor, 11th April 2012
Quite so Deb, well remembered, I had forgotten about the oil storage site.