| | | |
| --- | --- | --- |
| Railways | | Views: 3511 |
| Wigan Central Demolition | | Comments: 9 |
| Photo: winder Item #: 10302 | | |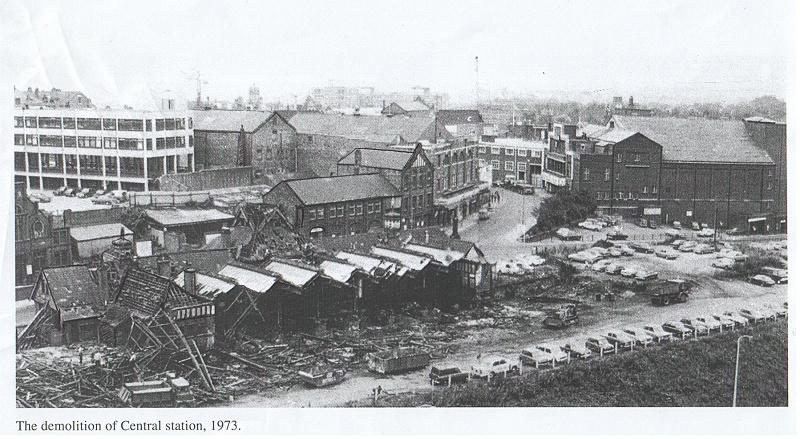 | | | |
| --- | --- | --- |
| | Image scaled down from 800px to 439px wide | Click here, or click the photo to view original |
This photo was taken from the same viewpoint as Dennis Millers photograph, item 10250
The caption gives a date of 1973
Comments by Dennis Miller, 2nd April 2009
Sad, these days they would probably preserve such buildings... I hope!
Comments by Mick, 2nd April 2009
Sadly not in Wigan, Dennis. They would probably still rip it down, and probably replace it with row of shops nobody would want to rent, or bars and amusement arcades.
Comments by Dennis Miller, 2nd April 2009
Much as I would like to disagree with you Mick.... you probably have it right. Lets take a look at what we do let stand... or rather allow to fall to pieces, the Old Town Hall.

Why Wigan Central Station was not listed I will never understand.
Comments by winder, 2nd April 2009
When they building the Grand Arcade there was talk of naming the old Station Rd, Great Central Way, which would have been a nice reminder of Wigans industrial past.
The Casino with it's Northern Soul link gets a mention in the arcade, but there's nothing said about old station.
Not trendy enough I suppose
Comments by Catherine, 2nd April 2009
I still can't believe that they didn't even try to have some sort of permenant display of the Roman ruins that were found under the new arcade.
Comments by Dennis Miller, 3rd April 2009
Am I right with my memory in thinking it was store at one time? I have a memory of it selling bathroom fittings at one time after it ceased to be a station.
Comments by Kevin Higgins, 3rd April 2009
Yes Dennis, George Makinson had the part under the "tower" as a showroom for bathroom suites. Makinsons main building was across the road adjacent to the Empress Hall (Wigan Casino for the younger viewers)
Comments by Graham Hart, 30th May 2011
i remember this station very well.i was an apprentice mechanic at S&S Motors which was down the hill at the back of the ritz cinema,i remember also makinson's having a bathroom showroom there,in the late fifties i remember going on the train to Lower Ince station for a penny,most of old wigan is gone now and not for the better,the planners have ruined it,look at wallgate its a disgrace but they still keep spending money on stupid road works and junctions,who are these faceless burocrats who are running wigan planning?????????
Comments by gurkmcgrail, 29th December 2014
one of the platform clocks sat on the back wall of pemps night club till it self was nockt down last yr