| | | |
| --- | --- | --- |
| Ince Central School | | Views: 3391 |
| ince central....the new school. Mrs. Hill's class(infants) | | Comments: 7 |
| Photo: irene roberts nee griffiths Item #: 9255 | | |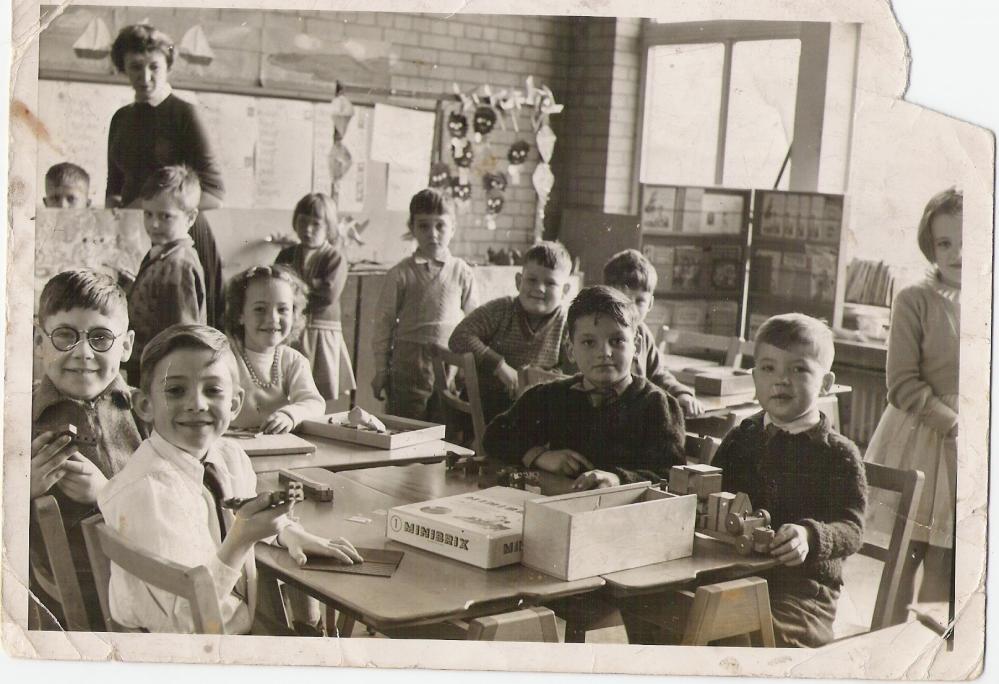 | | | |
| --- | --- | --- |
| | Image scaled down from 999px to 684px wide | Click here, or click the photo to view original |
| | | |
| --- | --- | --- |
| | must be @ 1960. I am sitting centre playing with Tap-Tap,which you can still buy in traditional toy shops. Note my plastic Poppet beads from Woollworths.....saw some on e-bay recently for £18!Unsure of two names,but can name most of the children.....John Crossland, Jean Knowles, Stephen Reeves, Stephen Wynn, Keith Johnson, William Melling, Goeffrey Ryding/ James Tonge, Susan Myers.Boy standing in front of Mrs. Hill Brian or Eric somebody.Look at the paper golliwogs we'd made....we probably wouldn't be allowed to make them now.....does anyone agree with me that things have gone barmy?! | |
Comments by Terry Halsall West Australia, 28th February 2009
I am a little older than the kids in the photo but...i remember James Tongue invited me to his birthday party and his mother did not know anything about it. So we ate james' bag of toffees. god love him.Thanks for the photo
Comments by Brenda Halsall, 15th March 2010
I can remember all the children on this photo although im not on it. I used to fancy Geof Ridying when I was about 8 but he left me for Freda Ramsdale! well gutted. ha ha
Comments by Karina Lowe, 15th October 2010
I fancied Geoffrey Riding when he was 14 or 15 , he went better looking with every year !!
Comments by Brenda Halsall, 2nd November 2010
Hi Karina, just seen your comment. hope your doing ok, isnt is crazy looking at all these photos?
Comments by Karina Fairhurst (nee Lowe), 11th January 2011
Hi Brenda ,lovely to hear from you ,i love Wigan World i've found quite a few photos from my past, very nostalgic ! Irene Griffiths uses the site a lot ,good for her i say . I think she's responsible for quite a few photos . Hope you and your are well.Bye for now x
Comments by Ann, 29th June 2017
Is the boy on the left wearing glasses Steven Reid?
He lived across the road from us and was friends with my Brother Denis Miller
Comments by irene roberts, 9th July 2017
It's Stephen Reeves, Ann. The lad who lived next door to him was Billy Rhead. They lived at 117 and 119 Ince Green Lane respectively. I remember Denis.