| | | |
| --- | --- | --- |
| Ince Central School | | Views: 5020 |
| ince central 1956-7 | | Comments: 15 |
| Photo: Dorothy Jones ne Metcalfe Item #: 6191 | | |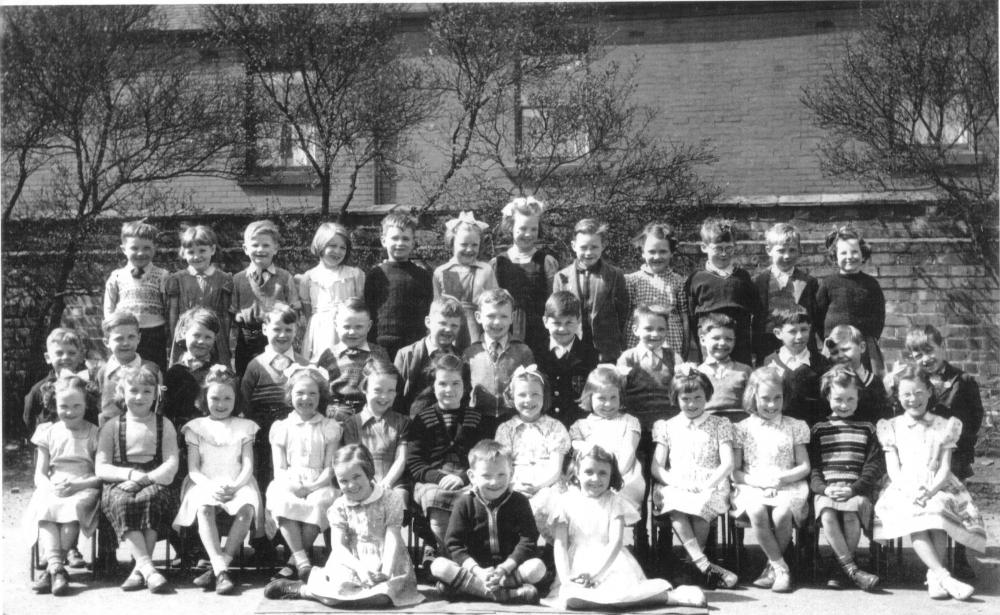 | | | |
| --- | --- | --- |
| | Image scaled down from 1000px to 615px wide | Click here, or click the photo to view original |
| | | |
| --- | --- | --- |
| | that is me 2nd left at the back next to terrence halsall | |
Comments by gary, 21st May 2008
its like looking at our rhiannan spits
Comments by jacqueline penman, 21st May 2008
never altered a bit
Comments by arthur scott, 6th January 2010
arthur scott 2nd row down 5 from right cute eh
Comments by Sylvia Smith, 31st March 2011
how good is this
Comments by kam, 5th March 2012
hello sylvia is that marjorie scotson extreme right on back row, looks like hazel phillpotts in stripped jumper on front row, were are you, i thought hazel and me were the same age , whats she doing on this photo
Comments by Jimmy Taylor, 23rd January 2013
Boys on this photo, Back row LtoR, Terry Halsall,(now settled in western Australia)Sonny Miller;Kieth Brady;??? John Hibbert; Peter Wareing. Middle row, James Taylor(from Leeway)Billy Johnson;James Taylor(from George St.)Alan Ashurst;???Eric Fern;Barry Green;David Haran;Arthur Scott; Neil Beresford;John Entwistle;John shaw;Tom Southworth, I can only recognise a few of the girls; Dot Metcalfe;Marj Scotson;Winifred Fillingham;Doreen Smart;Linda Darby;Joyce Livesey and Kath Shaw
Comments by Jimmy Taylor, 23rd January 2013
Apologies to Brian Pelly sat between the girls on the floor
Comments by John Entwistle, 28th March 2013
Jimmy the lad between me and Arthur Scott is Neil Rasburn not Beresford
Comments by jimmy taylor, 2nd May 2013
Your dead right John,My owld eyes aint what they used to be, How are you these days? are you still working ? do you still live in the Hindley area ?
Comments by Terry Halsall, 24th August 2013
What a lovely photo, what a memory jimmy has!! I recognize most kids on here and have fond memories.
Some of us went right through secondary school together. What happened to them all? I wonder?
ps Just filled out my pension forms.
Comments by Christine Measey nee Duddle, 5th January 2014
Marjorie Story is first one on the right I'm fourth from right
Comments by Jimmy Taylor, 9th March 2014
I think me and terry Halsall must have had the same barber. !!! My dad used to cut mine with a pair of rusty old clippers, it was bloody agony. Happy days.
Comments by Terry Halsall, 12th March 2014
What barber ?
Comments by Jimmy Taylor, 26th March 2014
Just laughing at your comments Terry, hope you enjoyed the cruise,must have been awesome, looking at this old school photo,I never dreamt that I would be talking about retirement. 65 on the 1st June 2014, where the hell has all that time gone mate,looking forward to travelling now,see a bit more of the planet, will call in on you when we get to Oz, stay good amigo and best wishes to all.
Comments by Terry Halsall, 27th April 2014
I know Jim time flies, got to make the most of it now! I've been slacking for a while now exept the kids think I've got nothing to do so they keep giving me work! I'm thinking of taking somebody on . Like the rocking horses you made, good job. Let us know when your out this way. Do your best mate.