| | | |
| --- | --- | --- |
| Deanery High School | | Views: 2035 |
| Deanery High School geography field trip to Anglezarke and Rivington 1971 or 72 | | Comments: 10 |
| Photo: Peter Charles Lechmere Item #: 30019 | | |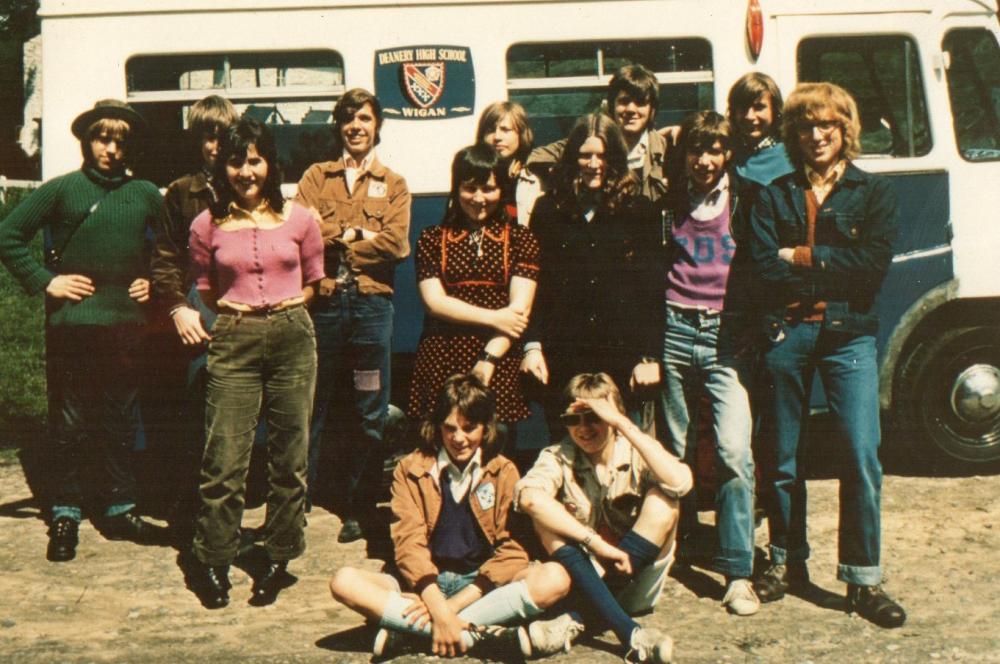 | | | |
| --- | --- | --- |
| | Image scaled down from 1000px to 664px wide | Click here, or click the photo to view original |
| | | |
| --- | --- | --- |
| | I don't know all the names. Far-left in green pullover is Peter Lechmere; next to him, partially hidden is The Late Stephen Hunt who died young; cross-legged in front wearing sunglasses is The Late Stephen Humphreys; the 5 lads standing to the right of the school badge are: Holmes?, Peter Brown, Barry Abernethy, Paul Richardson and Stephen Sellers. | |
Comments by Joseph, 30th December 2017
David Holmes.
Comments by Poet, 30th December 2017
I don't know anyone on this photo , yet I feel l know them all. So evocative of a time l loved.
Comments by John Brown, 31st December 2017
In the mid 60s, when it was 'All Saint's' a group of us went on a school trip to Belmont reservoir. We walked it, straight over the top of Rivington. No bus for us in those days.
Comments by Stephen Kirk, 31st December 2017
Seems like only yesterday, I am seated cross-legged next to Stephen Humphreys, great days. Do you have any other photos of these trips.
Comments by Tony G, 31st December 2017
Remember that bus so well. A fishing trip early 1973. Anyone else?
Comments by Peter Lechmere, 31st December 2017
Sorry Stephen,no. I know you were good pals with Stey Humphries. He was very popular and very funny;it was sad how it all ended for him. Also sad for Stephen Hunt who I believe died of cancer in the early 80's; I remember reading it in The Wigan Observer; he was a shy lad who didn't have a bad atom in his body.
Comments by Peter Lechmere, 3rd January 2018
Amendment: The lad fourth from the right on the back-row isn't Peter Brown, it's Peter Wood. Sorry.
Comments by Michael Rushton, 29th January 2018
I remember that trip well. Also on the trip was Colin Smith who also died quite young, we were in the police together.
Can't say as i recognise the girls in the photo.
Comments by Neil Ferguson, 9th April 2018
Back row third from the left is Barry Gaskell
Comments by Linda Mullen nee Boardman, 25th July 2018
Girl n green pants and pink top is me, I live in Australia