| | | |
| --- | --- | --- |
| St.John the Baptist. New Springs | | Views: 2093 |
| Class photo c. 1955 | | Comments: 17 |
| Photo: Bill Winrow Item #: 29530 | | |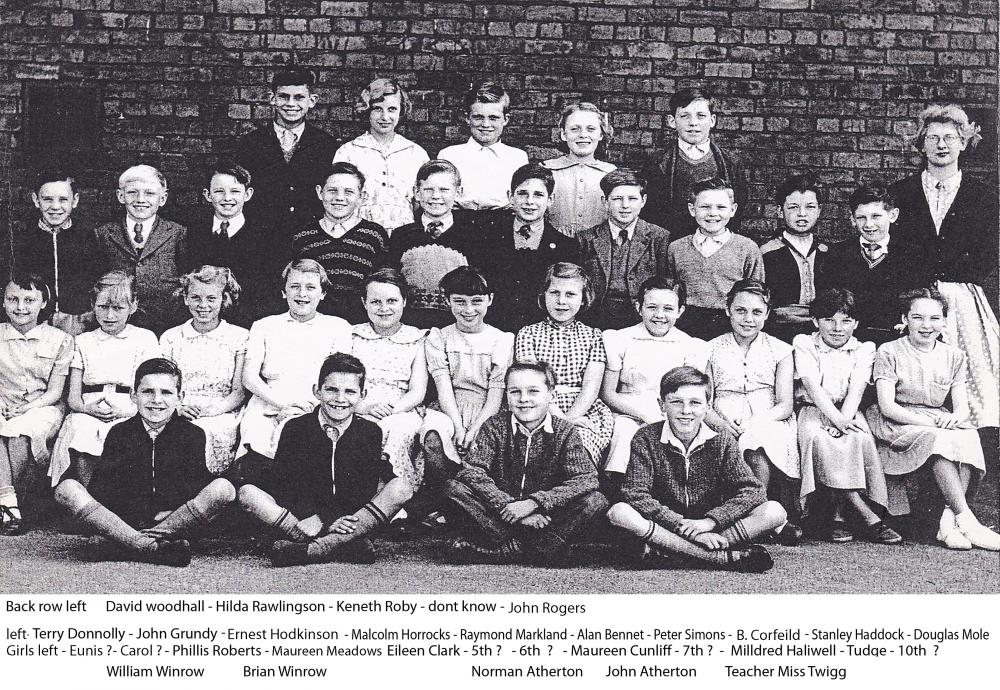 | | | |
| --- | --- | --- |
| | Image scaled down from 1000px to 690px wide | Click here, or click the photo to view original |
| | | |
| --- | --- | --- |
| | Class photo taken around 1955 Can anyone fill in the missing names? | |
Comments by wuz, 5th July 2017
Front row second in from the left Brian Winrow, is that the Brian Winrow that went on to be a police constable in Wigan Borough Police late sixties?
Comments by John D, 6th July 2017
Had many a drink with John Grundy and the Atherton twins in the pubs of New Springs in the 60's.The Royal, Bridgwater, Prince Albert and Free Trade have sadly been demolished.
Comments by bill winrow, 6th July 2017
my Brother brian winrow did not go to be a constable.
he started work at haigh foundry then did twenty plus years at gullick Dobson in ince .we lived at 71 chapel st for 21 years, then flew the nest in 1967 the house has sadly been demolished to make a car park for the british leigion and that is ready for demolishing . brian used to drink in them pubs ,I was tea total still am at 72 know john and norman Atherton very well. Friend for a long time if anyone can fill the blanks in for me or if I've made any mistakes.
Comments by nopa1000, 7th July 2017
Middle of girls row ,,,Maureen Kelly ,,,???
Comments by ljm, 7th July 2017
Did Brian serve an apprenticeship at Horwich loco works ?along with Terry Donnally who is also on the photo?My memory tells me they did ?
Comments by bill winrow, 7th July 2017
to nopa1000 thank you for that the people I have missed I could not remember ,as soon as you told me her name bingo was you in that class
to ljm no Brian never went to loco. ernest hodkinson served his apprenticeship there, Brian was haig foundery then gullick Dobson for 20 plus years then retired.earnest sadly died I think he was only 28 brian was his best friend.if anyone can tell me the missing ones I will update the photo thanks again
Comments by bill winrow, 7th July 2017
my apologies I have made a mistake in the order it should be Eunice. Carol. Phillis Roberts.Eileen Clark.Maureen Meadows.Maureen Kelly.Maureen Cunliff /don't know/Mildred Haliwell. Tudge /last one Don't know (sorry its my age )
Comments by bill winrow, 8th July 2017
I think This is about right Now
Back left - David woodhall- Hilda Rawlingson - Kenneth Roby - Dont Knos - John Rogers
Left- Terry Donelly - John Grundy - Earnest Hodgkinson - Malcolm Horrock - Raymond Markland Alan Bennet - Peter Simons - Brian Corfeild - Stanley Haddock - Douglas Mole
Girls Left- Eunis ? - Carol ? - Phillis Roberts - Eileen Clark - Maureen Meadows - Maureen Kelly - Maureen Cunliff - Winifred Kelly - Mildred Haliwell - ? Tudge - Dont Know
Front -William Winrow - Brian Winrow - Norman Atherton - John Atherton - Teacher Miss Twig
Comments by Irene, 9th July 2017
Was the teacher not Miss Twist?
Comments by ljm, 9th July 2017
terry donnolly,ernie hodgkinson,raymond martland all serve their apprenticeships at Horwich loco think Terry and Ernie both died young ?
Comments by bill winrow, 9th July 2017
thanks Irene it was my cousin who said miss twigg but looking again you are right did you go to st johns
ljm I didn't know terry had died . Ernie died when he was 28,what an age.Did you go to st johns Thank you all the the reply's
Comments by John D, 10th July 2017
Terry Donnelly didn't die young. I saw him in Heroes Bar in Blackrod a couple of years ago.
Comments by Irene, 10th July 2017
Yes Bill, I went to St John's but left at age 11. I am slightly older. My brother is on the photo, Alan Bennett, he died about seven years ago.
Comments by bill winrow, 10th July 2017
irene sorry to here Alan had died. new him very well we grew up together,we lived in chapel st left when I got married 1967, my memory isn't brill at 72 jog my memory were did you live.
when I look at the school photo I expect everyone to be still with us
Comments by Irene, 11th July 2017
Bill, we lived in Cale Lane, near the bottom of Boleyn Street but later moved up to Aspull as people did in those days. Alan must have left St John's soon after this photo.
Comments by bill winrow, 11th July 2017
I remember Ashcroft's round the corner my sister lived in longfeild st joan Johnson (winrow) my cousins lived in cale lane Barbara - David - John Hughes, and a bit further up Jean Heart. I remember George Mountnies well that was our hang out place. to the left there was an entry to the back yards of the houses. I was going to go up this morning with the camera I know its changed a lot. we used to know were a lot of people live in the old days .now I don't even know who lives fifty yards away and have been here forty nine years I still cant think of the names of people I have missed. thank you for your reply
Comments by Dennis Dickinson, 9th April 2018
Brian Winrow retired as a Police Inspector probably 8+ years ago. His last posting was at Horwich Police Station. He did serve an apprenticeship at Horwich Loco 1960 -1965.He did retire to the Aspull area.
Terry Donnelly served an apprenticeship at Horwich Loco 1960 - 1965 in the Upholstery Shops.
I haven't seen either of them since 1963 !