| | | |
| --- | --- | --- |
| Whelley Secondary School | | Views: 5260 |
| Mr Millar and prefects, Whelley Secondary School 1967 | | Comments: 21 |
| Photo: Dr Keith Tattum Item #: 10701 | | |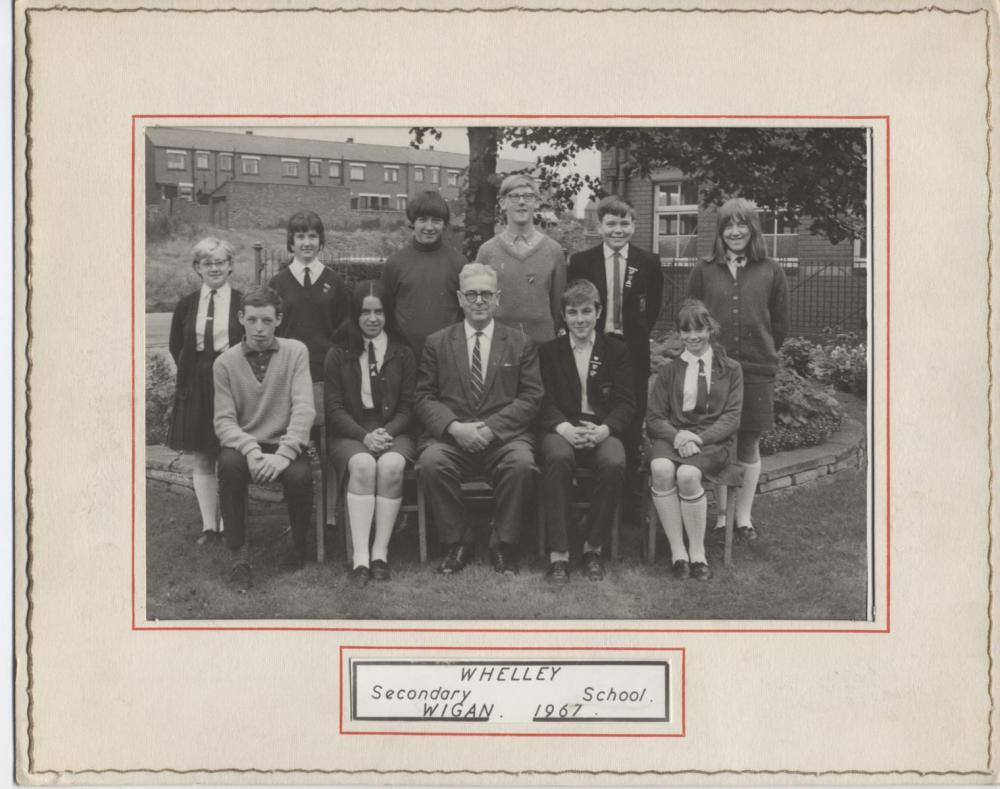 | | | |
| --- | --- | --- |
| | Image scaled down from 1000px to 789px wide | Click here, or click the photo to view original |
| | | |
| --- | --- | --- |
| | I can only remember some names I'm afraid, even some of these are little more than a guess. Left to right: (front row)Phil Needler, Sylvia Jackson, Mr Millar, Paul Miller, Eileen Davies. (back row) Glenys?,?, Phil Tickler, Bob Melling, me, Brenda Storey. Perhaps others can correct me and fill in the gaps. Where are they now? | |
Comments by Sue Foulkes (nee Gregory), 8th June 2009
Hi Keith, the two missing names are I think Glenis Sabin and Ann Winstanley. If you have any other photos of either Whelley Secondary or the trips abroad it would be great to see them. I know I went on two trips one to Noli in Italy and one to Holland. Brings back a lot of memories
Comments by Dr Keith Tattum, 11th June 2009
Hi Sue, good to hear from you after all these years. Yes you are of course correct with the names. Recognition is so much easier than recall! There is a picture under Whelley Sec School on this web site of a school trip to Holland in 1968. I can't see you on the photograph though. One of the things I do remember about the Noli trip (1966) was both our Mums fighting back the tears as we boarded the steam train at Wigan Northwestern.It seems a lifetime ago.
Comments by Sue Foulkes, 16th June 2009
Hi Keith. Nice to hear from you as well. I had noticed I wasn't on the Holland photograph. No idea where I had gone - knowing me probably suffering from travel sickness!!
It was a life time ago when we went to Noli and although I don't remember our mums keeping back the tears I can imagine them doing so. I don't have any photos of either holiday but I am going to ask my dad if my mum kept any. Hope she did. All the best
Comments by bob b, 26th July 2009
Real nice chap Mr Millar exactly the opposite of that obnoxious other Whelley school teacher Tubby Edwards, If Edwards had been teaching today he would have been sent to prison for life for what he used to do to pupils, I was there.
Comments by Joe Thomas, 19th June 2010
I Was At Whelley From 1956-1961 The Male Teacher's At That Time Where Mr Miller (Jim) Mr Simm (Tom) Both Tall Mr Beech(Tom) Mr Edmundson (Jack) Mr Thompson He Took Woodwork And 'Tubby' Edwards Headmaster The Head When I Started Was A Mr Lewis
Comments by dave b, 15th October 2010
Mr Millar used to lead me out of the hall by my sidelocks not nice
Comments by Sue Foulkes, 4th January 2011
Mr. Millar used to drag everyone out by the sidelocks be it a boy or girl. I remember that Mr.Beech used to throw the board cleaner at you if you weren't behaving yourself in class. They may have been a bit harsh looking back but you certainly respected the teachers then and it didn't do us any harm.
Comments by michael benson, 29th December 2011
i was at whelley school from 1959 to christmas 1962 was head boy in that year think margaret lowe was head girl has anyone got any fotos of that period it would be nice to catch up with old classmates
Comments by Ray Ges, 14th April 2012
Teachers Tom Beech and Tubby Edwards, These two were the most hated teachers ever, Tubby would make you stand a full lesson if you could not do your maths, Beech was like a Nazi camp commander who would crack anyone for no reason at all.
Comments by Sue Foulkes, 19th July 2012
It wasn't only Mr.Millar and Mr. Beech that put the fear into you. Mrs Ashley certainly put you in your place when she thought it was required and that included the lads, I was there when the other teachers were Mr. Edmondson, Mr. Simm. Mr. Farrimond, Mr. Thompson and later Mr. Birchall,Mrs. Rigby, Mrs. Walters, Miss Pass. I do see a couple of people on a regular basis ie Brenda Fairhurst, Peter Stopforth, Betty Smith, Lynn Melling occasionally Joan Roscoe and recently Ruth Banks. James Summers did a job for us a few years back but I haven,t seen him since
Comments by thomas anglesea, 9th October 2012
demolition starts on 1 dec.2012 to make way for new homes.sad to see it go..
Comments by D Conroy., 23rd August 2013
I remember this at the time Keith, I was Mr Millers Choice of Prefect for being the top swimmer in the school but your mother complained that you had not been picked and they took it from me and gave it to you.
Comments by Dr Keith Tattum, 27th September 2013
Dear David, Good to hear from you after all these years. I have little recollection of that time, so I am unable to say if what you say is accurate or not. My only memory is that Mr Millar ( always with an A ) told me I was going to be Head Boy; then in assembly, he announced the Head Boy was going to be Paul Miller. Didnt understand and didnt question it, but in my opinion it was an altogether more suitable choice. Hope all remains well with you. Regards, Keith
Comments by James Summers, 22nd January 2014
Hi Susan remember doing a small job for you a few years ago thought I saw you just before Xmas I was doing some work for Peter and Eileen Stopforth hope you keeping well
Comments by sylvia jakson, 5th July 2014
I have very fond memories of both Mr Millar and Contance Ashley they were great teachers and if you behaved there was nothing to fear from them., but then again I was miss goody two shoes (or so I've been told ) ha, I loved that school and I loved being a prefect in my third year and head girl in my final year. Happy days.
Comments by Jean castle was Lamb, 12th December 2014
I remember most of these ,and yes Sylvia you were a goody two shoes xxx
Comments by Sue Foulkes, 3rd April 2015
Hi Jimmy. You did a good job for us. I am well but unsure whether you heard recently, but unfortunatelyy and sadly I attended the funeral of Peter. It was a great shock, he was a great guy. Hope you are ok.
Comments by Dave Stephens, 22nd April 2015
Although not a Whelley student I was brought up on Whelley and knew most of these kids. I think its Terry Needle not Phil Needler. I think that Bobby Melling died about 10 years ago. Eileen Davies was an early girlfriend of mine. She dumped me For Peter. Sad to hear he has passed on but great to know that they were still together.
Comments by brenda adlington nee storey, 16th June 2015
oh what memories ... yes Sylvia Jackson , you were definitely Miss Goody Two Shoes , the girl that had everything !!! only seems like yesterday seeing this photo ... in actual fact I never wanted to be a prefect but I think it was thrust upon me because they felt they had to have someone from the poor quarter !!! happy days
Comments by Ann Hartley (nee King-Barton), 10th October 2015
I was at Whelley Sec Mod from 1962 -1966 and remember all those people in that photo with Mr Buer , brings back lots of memories good ones !!!!
Comments by Sylvia Boylan (Jackson), 13th June 2016
Happy days - Dave Stephens who are you - think being Eileen's boyfriend was wish full thinking i am one of her best friends and she only ever went out with Peter ever.
Sad news that Paul Goodman (Coke) passed away in March..