| | | |
| --- | --- | --- |
| John Rigby Grammar School, Orrell | | Views: 22571 |
| Class 1C at John Rigby Grammar School taken in the academic year 1962 - 63. | | Comments: 10 |
| Photo: Peter Young Item #: 290 | | |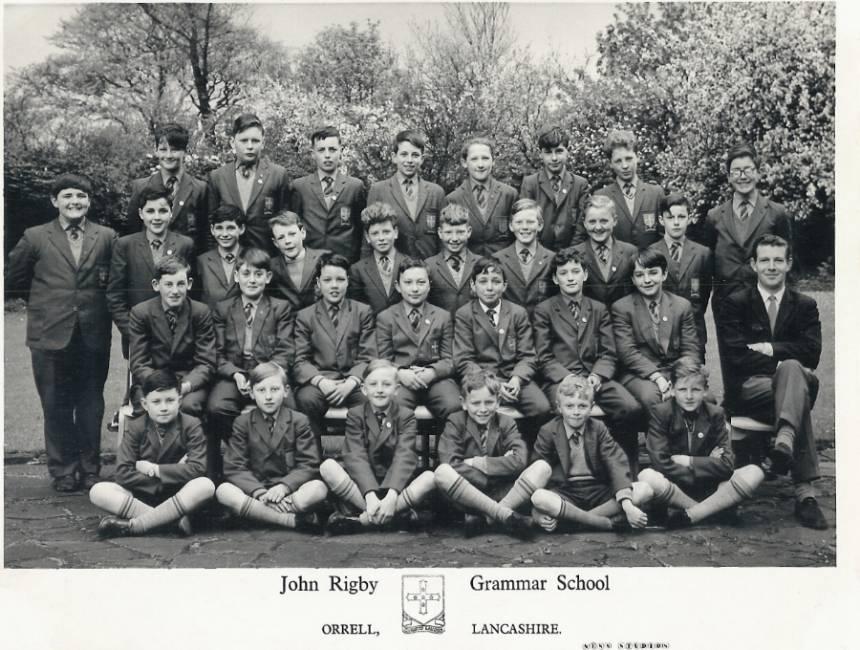 | | | |
| --- | --- | --- |
| | Image scaled down from 860px to 650px wide | Click here, or click the photo to view original |
Class 1C at John Rigby Grammar School taken in the academic year 1962 - 63.

Memory's a bit sketchy after 40 years but here's who I think they all are....

Back row, (l to r): John Mulligan, David Heyes, Can't remember, Stephen Owens, Joe Smith, Ron Naylor, David Smith

Next to back row: Joe Wallace, David Riley, Alan Heaton, ?, ?, John Moore, Tony Hankin, Peter Lacey, David Clapham, Paul McCormick.

Next to front row: Geoffrey Taylor, Peter Young, Alan Orrell, ?, ?, Kevin Edwards, John Knowles, Paul Bagshaw (Teacher)

Front row: Chris Boyle, ?, ?, ?, ?, ?

Apologies to those whose names escape me after all these years - and possibly to those whose names I've got wrong! Someone must know who they are???? (I am Second row, second from left, now sadly with rather less hair!)
Comments by farrie50, 14th April 2010
i was in Class 1A same year dont know them all but a couple are front row far right Martin Morris next to him Vincent Ferran,hope this helps
Comments by Peter Anthony, 8th June 2011
Tony Corcoran next to John Moore
Comments by Ginge Taylor, 11th April 2012
My dad is Geoff Taylor, he is seated next to you. I showed him this photo the other day. He remembers you and some of the front row. You can contact me via email if you wish. he now lives in Darlington, County Durham.
Comments by Eileen, 8th January 2013
My brother is Vincent Ferran on the front row , how could I get a copy of this photo can anyone tell me?
Comments by Michael Murphy, 13th September 2013
I was in 1A also, same year. Back row 3rd left is Melvyn Risbin, front row 2nd left Stephen Byron
Comments by Roy Lewis, 30th March 2014
Anyone remember tony Pennington from golborne
Comments by Stephen Byron, 14th August 2015
It was sad news when I heard that, earlier this year, the teacher Mr Bagshaw died. I saw him as one of the good teachers.You might have seen some of his publications and videos he produced in his later years including the "vox pop"video of former pupils - with plenty of marvellous anecdotes about life at the school in the 1960's.
Comments by Jack Knowles, 28th October 2016
Very sad the death of Paul Bagshaw.I was at his funeral,he was a very nice man and made my early days at John Rigby very good.
Comments by Stephen Byron, 2nd November 2016
I recently watched again the video produced by Paul Bagshaw of the Grammar School in the 1960's. One of the stars in that production of 2002 was a very distinguished looking Jack Knowles!
Comments by tom, 20th April 2018
middle second row I think is fred leather