| | | |
| --- | --- | --- |
| Wigan Athletic | | Views: 22813 |
| The "legend" heads another! | | Comments: 9 |
| Photo: Ivor Hilton Item #: 17252 | | |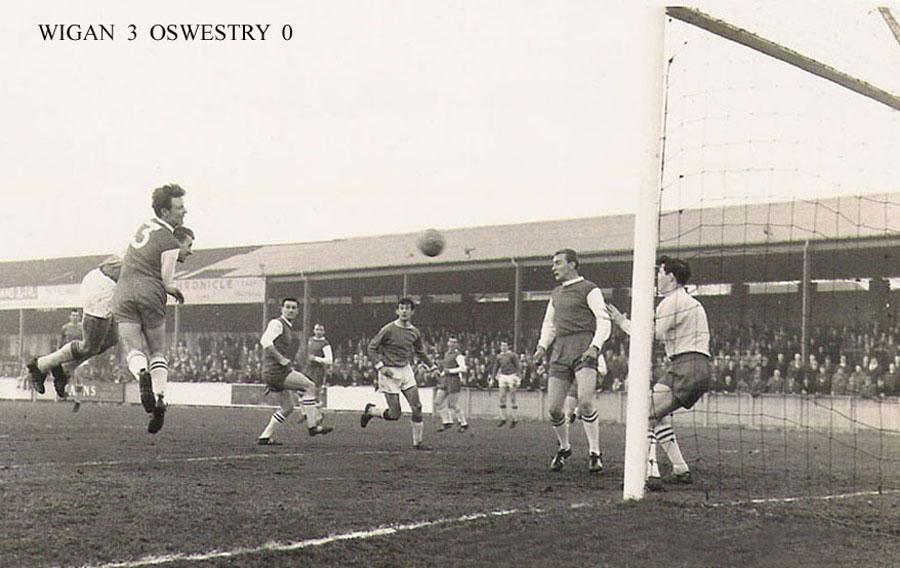 | | | |
| --- | --- | --- |
| | Image scaled down from 900px to 568px wide | Click here, or click the photo to view original |
No prizes for guessing who the scorer is! Although some interesting team mates to try and put a name to.
I can't claim the credit for this photo as I bought it from a local newspaper, but old Springfield Park supporters can enjoy it!
Comments by Tony Topping, 28th February 2011
Superb picture again Ivor!

P.S. Fancy doing an interview for the football fanzine?
Comments by geoff, 28th February 2011
I think the player in the centre background is Walter Stanley.If I remember correctly he played on the left wing.From the angle of the header it cold have been this player that crossed the ball.
Comments by pat, 1st March 2011
correct geoff it is walt Stanley
Comments by Tony Topping, 1st March 2011
Any latics fans who can recall matches like this please get in touch via the Mudhutter website.
Thanks
Comments by Ticsmon, 2nd March 2011
Is Allan Brown at the edge of the box to the right of Harry? and is the inside forward Carl Davenport?

What season would this be?
Comments by Ticsmon, 4th March 2011
Now we beat Oswestry 3-0 in seasons 1961-62 and 1964-65. I don't think Harry played for us in 1961-62 so I presume it was 1964-65. Any comments?
Comments by Ivor, 5th March 2011
It was the 1964-65 season. Allan Brown (player/manager)is just behind Harry's legs with Carl Davenport following up. This was the season we won the Cheshire League and Lyon scored 66 goals in all competitions.
Comments by Ivor Hilton, 21st April 2011
Sad to read about the death of Allan Brown this week (April 2011. He was a very shrewd manager who got the best out of his players. Thanks for some great memories Allan!
Comments by Judith Robinson, 15th March 2012
Is Barry Knowles on it? he is my dads second cousin