Photos of Wigan
Photos of Wigan
Album Contents
Album Contents
Wigan Album
Gregory family
7 Comments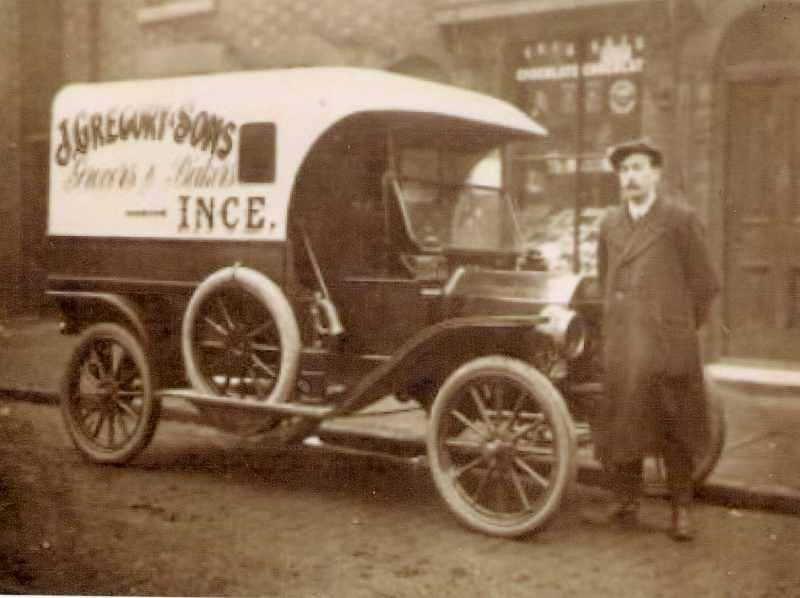 Gregory & Son delivery van
Photo: Graham Taylor
Views: 1,552
Item #: 29403
Another shot of the Gregory delivery van that Ron posted earlier with the same driver. The Gregory's really were a family of shopkeepers. When my great grandfather John who started the business died in 1902 his eldest son James opened a shop in Liverpool, John ran a grocers in Belle Green Lane, Thomas took over the bakery and shop in Kirkless St and Roger ran a grocers in High St, Standish. Their cousins Jonathan and Roger also had grocers shops in Hindley.
I remember my mum talking about Gregory's grocery shop in Belle Green Lane, where she lived as a child.
James Alfred, the only son of Roger, the brother who opened the shop in Standish, became a doctor, and went into the Royal Army Medical Corps in WW1. He was with the 12th Manchesters at the Battle of the Scarpe in April 1917, where he was fatally wounded, dying on 13th April.
He is commemorated on the family grave in St Wilfrid's churchyard, as well as on the village Cenotaph and the Peace Gate.
Comment by: Neil Cain on 5th June 2017 at 10:07
Graham, would John and family have lived in Hemfield Road off Belle Green Lane? My dad often spoke of Gregorys (he lived across in Francis St.)I am sure he said they were bakers
Comment by: Elizabeth on 8th June 2017 at 18:54
Yes, Gregory's shop (bakery) was on Hemfield Road, I remember my mum talking about it.
Comment by: Neil Cain on 12th June 2017 at 08:06
Graham, We must be related. John Gregory b.1829 d.1902 is my GGG Grandad. I've sent Ron a better quality scan of the model T van and driver. My dad thought the photo is c1915. Also sent Ron a photo of my Grandad John Gregory b.1908 and Great Grandad William Gregory b.1881 outside the grocers on Belle Green Lane. I knew his wife Annie d.1984 as she lived to 103!
I also believe one of John Gregory's sons set up the 1st mechanised pie factory in the Wigan area, suppling pies on match days to Wigan RLFC.