Photos of Wigan
Photos of Wigan
Album Contents
Album Contents
Wigan Album
wagon works
30 Comments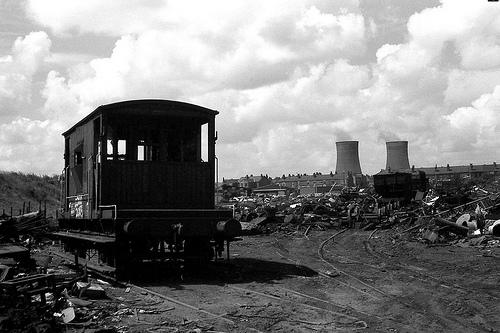 wagon works
Photo: aitch
Views: 3,875
Item #: 13523
Thompsons scrap yard down christopher street, this spot is now the site of the medical centre Lower Ince
Comment by: Rev David Long on 3rd February 2010 at 22:16
aitch, I think if you're going to post photos from Flickr that you ought at least to acknowledge their source. In this case: http://www.flickr.com/photos/fray_bentos/2705111960/in/set-72157594155559143/
Visitors here may like to know of the excellent set of 1974 images of Lower Ince and elsewhere in the region which have been posted there.
You're also mistaken with your caption - Christopher Street is East of Lower Ince Station, whereas this is West of it - on the site of the new Clinic on Phoenix Way, off Warrington Road.
Comment by: aitch on 3rd February 2010 at 23:32
Rev, I was born in Christopher street, and at the time this photograph was taken I was working on the spot shown, we accessed the site from Christopher street, the old canteen being our changing room (I was a burner breaking up the wagons and coaches)I may not have been correct in the description of the site, but I worked at that firm for a very long time, I even started my working life down there in the old foundry, which was also accessed from Christopher street
Comment by: Gerry on 4th February 2010 at 10:06
Well, Aitch? what did you expect from a Rev? Holier than thou, and you being preached at, thats his job...
Comment by: aitch on 4th February 2010 at 12:33
Rev Long, I didn't now that the pic was the property of someone else, I dont even know what flicker is, I was sent the photo by email from a friend of mine, as well as a lot more, I have close to 2000 in fact, If I have infringed some ones copy write, then for that I am sorry, but please do not treat me as an one of your parishioners, lectures at my age I do not need, I was just trying to add a bit of history to the site, instead of some of the rubbish published, also I was under the impression, that anything that was subject to copy write would be deleted, so Brian do your stuff, I for one wont mind.
Comment by: Rev David Long on 4th February 2010 at 13:52
Are personal comments really necesary, Aitch & Gerry? As far as the content of this Album is concerned, none of it is rubbish. I find much of great interest, and some of no interest whatsoever, but unless I get the opportunity to see a pic, I'm never going to get the chance to choose. The invitation was for people to put their family albums on line, and the response has been great, I hope folk keep them coming, whatever their subject.
Comment by: RON HUNT on 4th February 2010 at 14:32
I was under the impression that once a photograph or an article appears on the internet it is deemed to be in the Public Domain so the copyright laws no longer apply????
Comment by: RON HUNT on 4th February 2010 at 15:16
I recently got a copy of the book INCE WAGON WORKS It shows pictures and information about the wagons made there, and a bit about the collieries they were made for. Anyone who would like to look at it, let me know.
Comment by: Rev David Long on 4th February 2010 at 15:43
Sorry, no, Ron. Much is available to be used without payment, but it still remain subject to copyright laws - and should always be used with acknowledgement to the original source, even if you're not sure who the photographer is. If you do that, you're unlikely to offend anyone, and can claim that you tried to do your best by the photographer.
Comment by: Kevin Higgins on 4th February 2010 at 16:16
Ron, if you are interested/concerned regarding the copyright laws of the UK try the following link.

http://www.copyrightservice.co.uk/copyright/p01_uk_copyright_law

Item 6 gives the length of time that copyright applies for various items.
Comment by: dave johnson on 4th February 2010 at 19:03
I have put several photos on various sites and it does come as a surprise when you are browsing and come across one of your own pictures. Only once have I seen one with any acknowledgement as to the owner of the original pic.
Comment by: tricia on 4th February 2010 at 19:14
I did not think that Aitch's comments were personal.....
Rev, Gerry..... Be nice!!!!!
Comment by: RON HUNT on 4th February 2010 at 22:51
A few years ago a certain person (John Hanavey) who worked at Wigan college asked for anyone with old photos of Wigan. if they would be kind enough to loan them to him . I loaned him my collection of postcards. A couple of years later he produced a series of books about Wigan. Full of photographs A lot of which were mine and he had the nerve to claim copyright on them. I never got a free book or an aknowledgement. He has now moved on to pasture new. I wish I could bump into him again Cheeky B*****D
Comment by: Keith Forshaw on 5th February 2010 at 01:22
I now live on the Spindlewood Road estate that was built on the old Wagon Works site. Its odd to think what was there before these houses were built. Looking at the photo...our house must be very near to where that rail truck is parked!
Comment by: Rev David Long on 5th February 2010 at 08:08
I refer you to the correspondence above. This is a good few hundred yards West of Spindlewood....
Comment by: Gerry on 5th February 2010 at 10:29
Comment by: tricia on 5th February 2010 at 11:04
Guys! Guys!
Brian works hard on this site... stop squabling ..or you will have to go on the naughty step.....Does it really matter if it is North South East or West????? Please, agree to differ.
Comment by: Littlelaner on 5th February 2010 at 11:57
In similar circumstances to Ron HuntI to lent my large collection of photos and am left with photos and negs wich I rejected 1st time round and it is annoying my pictures appear even on this site now and again, in all cases I have never been credited or acknowledged,not even unknown
Comment by: Cathy Bolton on 5th February 2010 at 20:09
We are so lucky to have Wiganworld and to have the opportunity to share the enjoyment of the wonderful pictures that appear.
You never know what's going to appear next!
There might be the occasional disagreement in the comments(do you remember that picture of Market Street last year!) but one thing that everyone has in common is a fondness and interest in Wigan.
Does anyone know of other towns where the public have the chance to contribute to a site in the same way?
Comment by: aitch on 5th February 2010 at 21:23
Keith, where you live on spindlewood, used to be the location of the wagon works offices and wagon repair shop, as well as the pallet shop and saw mill, the entrance to the works was down woodlands avenue, the first building as you went in was the canteen on the right and the offices beyond that, lower down was the fitting shop, to the left was the pallet shop, saw mill, and the brass shop, while lower down at the bottom of the yard was the wagon repair shop, this reached to the area where the photo was taken, the old gc railway line is still there in parts, probably known to you as the floods, the name is apt, as even when I fired on the line to Manchester central and Irlam, the line was liable to flooding.
Aitch,
There is so little left now of the old GC line across Amberswood common thanks to the combined efforts of the open-cast men and the "goons from the council" who always seem to me to have had a disproportionate hatred of old railway lines in the borough -considerable quantities of yours and my tax dollars have been wasted on raising old railway embankments, filling in cuttings and destroying old viaducts and bridges. The only tangible part left now of the old GC line in this area, being the remains of the end of the long cutting at the Lower Ince end of the common, and ironically that is flooded! The old maps show at least two mineral/colliery lines crossing the long cutting which originally stretched more or less from Lower Ince Stn. to Strangeways West Jct. Are you able to recall any of the features at all of that lost section for us, or better still do you have any photos of the railway in the area before it's demise? Thanks, Dave
Comment by: COLIN HARLOW on 9th February 2010 at 08:32
Aitch,great photo of the scrap yard and of the guard van waiting to be cut up, when I first saw this photo I knew exactly where it was. On the left of the pic is the old embankment of the Pemberton loop and the familiar site of the cooling towers. Well done Aitch and keep the railways pics coming. Dear Rev David Long, are we really botherd about North, South, East and West? when Aitch perfectly discribed the area, most people by now, know where the new Medical Centre at Phoenix way is. So Please lets not try to be clever or even worse a Control Freak on the site.
Without the likes of Aitch, and many more like him, railways of our past would disappear for ever.
Anyone can copy pics off others' sites, or from books and put them up here. I don't think that is the purpose of this site and, according to its rules, it is not allowed. I am in regular contact with the photographer of this pic, and he has been very generous in allowing further use of his images - on his terms. If I were to put up my copies of his images, especially without acknowledging their source (and ignorance is no excuse), I would be infringing his rights, as well as appearing to pass his work off as my own and claiming credit for it.
I sit quite loosely on the scanning and putting up of pics from older, rarer publications which folk are unlikely to come across, and even from quite recent ephemeral publications, such as newspapers, as such material is not easily accessed... but much of such copying is still infringing someone's copyright. The least you can do is acknowledge the source.
I think this site is best used for bringing out into the open images which have been stuck away in someone's album or photo wallet, unseen almost since taken, and certainly not seen outside the family.
I'm sorry if this seems 'holier than thou', but I think there's a danger that sites which permit people to put up copyright images might find their ISPs give them trouble somewhere along the line if copyright holders complain about them.
As for positioning pics - had Aitch explained as fully as he did later what he meant by 'down Christopher Street', we'd have had no discussion about the matter. At the bottom of Christopher Street is a Council Depot, and his explanation led one reader to assume he meant the site of the Spindlewood estate... I knew what he meant by the Clinic site, even though you can no longer get to it via Christopher Street, but others who don't know the area wouldn't.
We're building an historic archive here (grandiose, I know, but that's what it is). It needs to be accurate, as far as possible. People forget where a pic illustrates, or don't realise the full significance of what is in a pic. The facility for others to put up corrections or additional facts adds to the value of the site. This should be done without getting personal....
Comment by: aitch on 9th February 2010 at 14:26
A couple of questions Rev Long, how long have you lived in Ince, and where was the council yard mentioned regarding the photo I put on, I repeat, it was emailed to me from a friend who knew I was interested in pictures of Ince and knew I had worked at the place in question, as for comments, this is the 2ND time you have, pulled me up over a remark I had made, if you have an issue with me get it off your chest, and from now on I wont be putting any more photos (legal or otherwise)on this site.
Comment by: Rev David Long on 9th February 2010 at 16:11
It's worse than you think, Aitch. Not only have I only lived here for a mere 14 years, but I'm a SCOUSER!! The photographer came up from Bristol for the day to take his wonderful set of pics of Ince. I don't see what that has to do with anything. I've no special beef with you - you've fully explained yourself, but others would appear to want to encourage the posting of copyright pics, and to discourage the posting of comments which correct mistaken captions. The first could jeopardise this site, and the second would lead to it being less useful as an historical document than it could be. Sorry you've taken umbrage - and for jumping to the conclusion that you knew the pic was copyright when you sent it.
Comment by: irene roberts nee griffiths on 10th February 2010 at 10:38
PLEASE don't stop putting photos on, Aitch. They say a stranger is just a friend you haven't met, and most of us on this site are just that.....people who share a common interest in the past, and would never have had access to these photographic memories if it wasn't for Wigan World.We love your pics and they are especially poignant to those of us who originate from Ince. Whether in the street, in the pub, in the workplace or online, there will always be people who are never going to see eye-to-eye...don't let it stop you posting memories, Aitch.Your friends on Wigan World look forward to them.
Comment by: COLIN HARLOW on 10th February 2010 at 12:03
I agree with Irene, as an Ince chap myself born and bread, I look forward to Aitch and his comments on Wigan World. Its people like him that make this site interesting and possible. Keep doing what your good at, I'm sure thousands on this site would agree.
Comment by: wigan worrier on 2nd March 2010 at 13:46
Is it any wonder church attendances are falling.... a scouser to boot. Stop the arguing and preaching and just enjoy !!!!
Comment by: Adreenie Giles on 8th November 2010 at 20:07
I was interested to see the pictures and read some of the comments about Wigan Waggon Works. In researching my family tree I've discovered that one of my ancestors appears to have been the managing director of the Wagon Works back in the 1890's. His name was Thomas Dickinson Swift and he died in 1907. One of his sons was a foreman there in 1911
Comment by: Brian Mc on 19th August 2011 at 21:00
re the works location it is close to the new clinic and who remembers the water? at this location name Bailey's! and no loco to move stock but a Tractor with big wooden buffers!
aitch is bang on i've lived in laburnum ave 50 years, as for the scouser, i'll bet the brass bearings from the guardsvans axels have been stolen lololol