Photos of Wigan
Photos of Wigan
Album Contents
Album Contents
Wigan Album
Holy Family R.C.Primary School, Platt Bridge.
32 Comments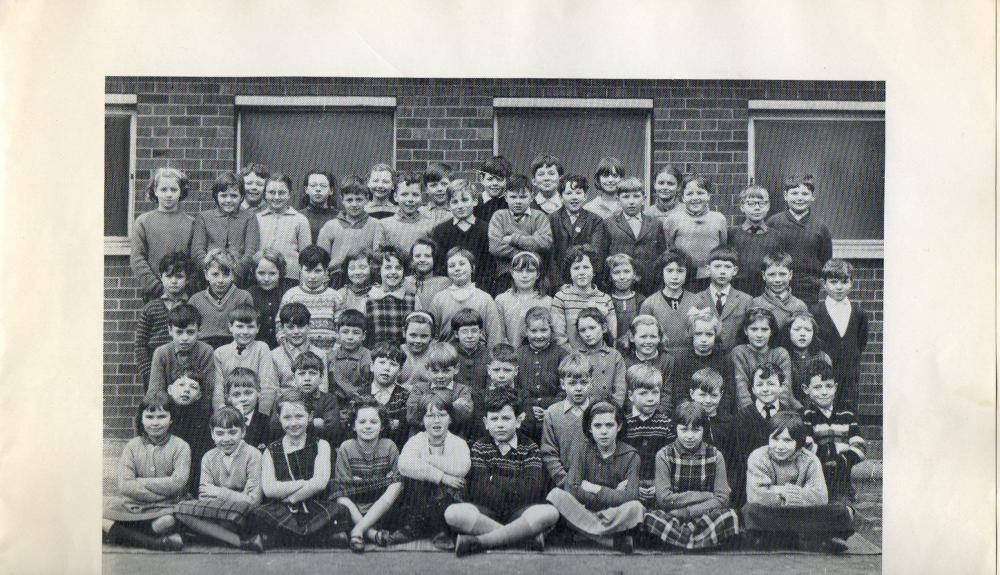 Junior school children.
Photo: anne bretherton
Views: 30,503
Item #: 8034
This photo was taken for a brochure about the new school that was going to be built.
Comment by: eric gaskell on 20th November 2008 at 21:02
Anne, where did you get these photos from.
On the 4th row up 2nd in my cousin Paul Taylor. Top row 7th girl one of the Moore sisters who lived at the back of Abram Park
Comment by: Mark Calter on 21st November 2008 at 18:00
My sister is on so is Sean Swift,Kathleen Robinson but i have not to say were
Mark I can see Marie but I'll not say where she is either
Comment by: Eric Gaskell on 25th November 2008 at 17:30
Well I can see Sean, and he's not told me not to say. He's 3rd row up first on the left.
Comment by: anne bretherton on 26th November 2008 at 09:20
Sean Swift is not on this pic hes on the Infants.Hes on the back row next to Ste Parkinson.
Comment by: keith pennington on 26th November 2008 at 19:05
i cant place Marie Mark and Dave, could you point her out to me when no one's watching
i no wer marie is to..but i am saying nothing!
Comment by: Mark Calter on 28th November 2008 at 16:15
Ann
the third girl in from the left on the front row,Sean Swift is the boy over the top of her,further along is Kevin Conway, his brother is on next to John Cunningham,further along is Terence Togher,Tereasa Duffy is next to Kathleen Robinson
Comment by: anne bretherton on 28th November 2008 at 17:03
Mark Sean Swift is younger than me and he is on the Infants photo as i am.He is on the back row,in the middle next to Ste Parkinson.
Comment by: anne bretherton on 28th November 2008 at 17:26
front row L-R pauline flynn,?,julie o'hara,linda catterall,jean whittle,alan pye,?,?sweeney,Joan sharples.
2nd row L-R sean flynn,wilf pugh,tony mills,graham pye,?,antony scally,kevin conway,john higham,?,?Meadows,tny greenwood.
3rd row L-R willie salmon,tony morley,?,chris sweeney,christine golding,?higham,Pat heaton,?,marie calter,?,susan sharratt,irene o'hara.
4th row L-R colin campbell,paul taylor,?,?,sheila moore,elaine pugh,christine mills,pauline moody,vivian connaughton,?meadows,theresa duffy,kathleen robinson,tom lloyd,rob lloyd,david houghton.
5th row L-R ?,carol darbyshire,?,?,steven conway,john cunningham,?crinigan,terry togher,jo griffiths,michael williams,?,?.
back row L-R ?,jaqueline greenwood,helen moore,danny connaughton,?,?,christine donnelly,?naylor.
Hi Eric
hope your the famous artiste you deserve 2 b,some great memories if anyone sees Sean Swift give him my regards and ask him is he still a good catholic boy.
Regards Winston
Comment by: Maxine Williams on 16th August 2009 at 23:53
Great photo - my brother and sister Tony and Jacqueline Greenwood are on it!Thanks for posting it.
Comment by: anne bretherton on 29th September 2009 at 12:03
Maxine i remember your sister Jacqueline and Tony was in my class at Holy Family.
my brother Chris Houghton is on the end of the 4th row R/H side
Comment by: anne bretherton on 3rd January 2010 at 15:26
David,i remember your brother Chris.Did you live in Bickershaw and do you now live in Ruskin crescent?
O.M.G.
On the previous photo I saw one of my big brothers Jim and on this one I see two more of my brothers Tom and Bob! Tom was killed on 12.5.71 coming home from work on his Vespa motor scooter. Thank you for the privilage of seing these pictures.
This class was one year below ours but although I'm getting older my "long-term" memory is still quite sharp. I can update some of the missing names that Anne Bretherton had question marks although one or two did stump me!!! Here goes:

Bottom row, next to Pauline Flynn is Josie Magnall, girl next to Joan Sharples is Elaine Pugh don't think that's Elaine on Row 4.
Row 3: Next to to Christine Golding is Pat Mills,girl between Christine Golding and Marie Calter is Christine Unsworth,
Row 4: Girl next to Paul Taylor is Anne Cunningham followed by Julia Burke.
Row 5: Girl next to Carol Darbyshire is Susan Green, I think it is Michael Crinigan next to John Cunningham and the lad at the end of the row is Stephen Parks.
Back Row: Next to Danny Connaughton is Peter Golding and next to him is Christopher Sullivan. I think the girld at the end of the row is Janet Eyre.
Comment by: anne bretherton on 13th October 2010 at 13:23
Girl next to Joan Sharples is Chris Sweeneys older sister,dont remember her name but she has lived in Abram all her life.It definately is Elaine Pugh on the 4th row.
Comment by: anne bretherton on 13th October 2010 at 13:26
Liz....your brother Bob was in my class at Holy Family and Cardinal Newman and i remember your brother Tom as well.
Comment by: Kathleen Horrocks (Walsh) on 26th October 2010 at 21:36
Girl who I thought was Elaine Pugh is Pauline Sweeney.
Comment by: peter g on 11th November 2010 at 16:45
i know loads of these kids from the cardy my wife Irene O'hara is on the 3rd row at the end right.great to see this pic.
Comment by: julie ohara on 3rd December 2010 at 17:19
love this picture want a copy i look like right miss bossy boots an i was the quiet
Comment by: David Houghton on 18th January 2011 at 19:49
Yes Anne he did live in Bickershaw and I do live in ruskin crescent were are you now we should all have a get together in the buck at Abram
I'm up for a pint in the buck! live in manchester now, but over at my mum's every week, she still lives in abram, as do two of my sisters, Kathryn and Dot.I know Kevin Conway is usually in the buck, maybe someone can arrange a get to gether?...don't for get me! I keep in touch with Sheilagh Moor she's in Colwyn Bay so we would need to plan this to give people notice to get there. Great picture,remember black and white photo's (i don't feel that old)
Comment by: anne bretherton on 6th March 2011 at 18:34
David, i live in Simpkin street!!
Comment by: Sheelagh Moore on 15th May 2011 at 20:46
Yes Helen Moore is on the Top row & that's little old me on the 4th row Sheelagh Moore - I do live in Old Colwyn so if you are organising a get together give me a bit of notice I can then get over. John the eldest lives in Aspull, Helen and Rob both still live down Lee Lane Anthony lives in Bickershaw & Tom has moved to Canada.
Going to go & find my old 1st communion photo and get it on scanned on - watch this space !!!!
Comment by: Jackie Best on 14th August 2012 at 20:51
Yes, that's me (Jacqueline Greenwood) on the back row.
On the 5th row - I beleive that the girl on the end next to Carol Darbyshire is Kathleen McGarry. Peter Crinigan (not Michael) is the boy next to John Cunningham.

Great photo - thank you for posting it.
Comment by: Jon Wonders on 29th November 2012 at 08:43
Amazing over 17000 views and only 28 comments?

Am I missing something?
Comment by: Robby on 17th May 2013 at 13:23
R.I.P. Shaun Flynn 2nd row from front 1st left 7-may-2013. A real character
Comment by: Kathleen MCGARRY on 11th April 2014 at 00:15
That is me back row at the far left
Comment by: janet glover nee eyre on 23rd January 2019 at 06:37
yes thats me top row 4th from the right