WIGAN FIRE BRIGADE RUGBY TEAM 1970s
WIGAN FIRE BRIGADE RUGBY TEAM 1970s

Photo: D SHERRATT Item #: 166

Views: 6521

Comments: 14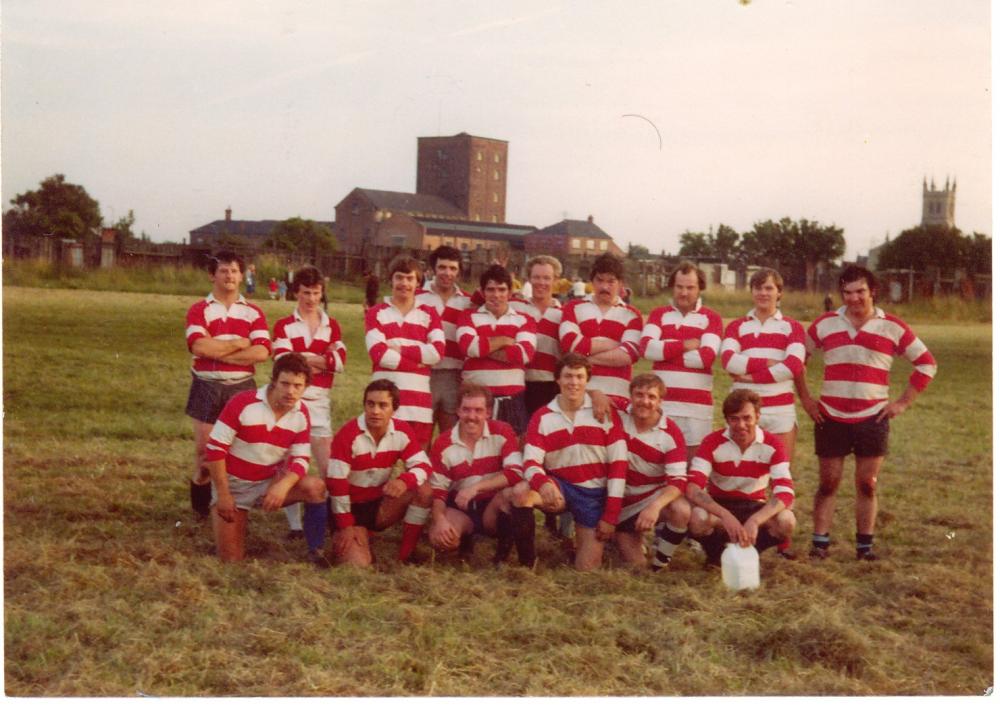 | | | |
| --- | --- | --- |
| | Image scaled down from 1000px to 705px wide | Click here, or click the photo to view original |
| | | |
| --- | --- | --- |
| | THIS WAS A PHOTO OF THE WIGAN FIRE BRIGADE RUGBY TEAM 1970s | |
Comments by Ann Burgess, 31st March 2009
Stand to attention Sub O. Sherratt. This takes me back a bit Dave. Most of you on the picture have gone on to bigger and better things - where am I - still plinking away on my typewriter (or pc as we have now - now who's gone up in the world). Just a few I can't put a name to, but I'm still working on it. Good to remember.
Comments by Mick, 7th April 2009
I think the lad in the middle back row looks like Jim Cadman
Comments by dave, 7th April 2009
keep thinking ann, keeps the brain matter ticking over perhaphs someone can name them all? nice to hear from you.the one in the middle back is jim cadman, dave
Comments by John, 11th April 2009
The one knelt down in the middle of the front row is Steve Johnson, infamous for his squash playing. The lad third from the left on the back row is Peter Iddon, and I think the smaller lad to the left of Peter is Phil Benson (Benny)
Comments by John, 12th April 2009
Further to my last post I've contacted an old mate who used to work at Wigan Fire Station. As thought even my memory is wrong sometimes, but my mate has managed to name the following :-

Back row left to right

Steve Dandy,Dont know, Peter Lawson, Brian Hope,Dave Sharratt, Jim Cadman, Kevin Bradley, Dennis Rowlings, Eric Dodd, Dave Haighney

Front Row again left to Right, Martin Higgins, Dont Know, Dont know, Steve Johnson, Jimmy Lord, Mick MacMullen,
Comments by DS, 27th April 2009
OK LETS HAVE ANOTHER GO ,BACK ROW. STEVE HAUGHTON, PHIL BENSON,PETE LAWSON,BRIAN HOPE,DAVE SHERRATT,JIM CADMAN,KEVIN BRADLEY,DENNIS ROWLINGS,NOT KNOWN,DAVE HAIGHNEY,
FRONT, NOT KNOWN,ERIC DODD, DAVE FARRIMOND,STEVE JOHNSON,JIMMY LORD,MICK MCMULLEN, ONLY TWO TO FIND ANYONE KNOW?
Comments by Jim Cadman, 26th May 2009
There's only one name I'm not sure of,but - back row are Steve Houghton, Colin Horan, Pete Lawson,Brian Hope,Dave Sherratt, Me (Jim Cadman) Kevin Bradley, Dennis Rowlings, Eric Dodd, Dave Haighney. Front row are ??, Tony Abram, Dave Farrimond, Stevie Johnson, Jimmy Lord and Mick McMullen. Too many knocks - can@t remember who we played! Jim
Comments by steve coleman, 24th October 2009
brought back some memories for me, I was there 74 to 86 any more photos with names cos my memory is fading
steve
Comments by Eric Dodd, 16th March 2010
Can't help with names but I think this was taken when we played the Bleach Works team.
Comments by Eric Dodd, 16th March 2010
Further to my last comment. Front row second in from left is my brother Bill Dodd.
Comments by DS, 11th December 2010
MUST HAVE BEEN SOME BIG LADS,THE SHIRTS WHERE LOANED BY WIGAN RUGBY LEAGUE CLUB
Comments by Ken, 19th April 2012
Hope someone can help... Trying to get hold of Brian Hope as pictured here. I was in the Navy with him and have lost his contact details. We get Christmas cards from them every year but have no idea how to get back in contact with them. Does anyone know Brian, his wife Hilda or any of the kids?

Any help much appreciated!

Ken Swift
Comments by DAVE, 23rd December 2012
HI, BRIAN LIVES IN EDINBOROUGH DRIVE PEMBERTON
Comments by Jane (widnes), 30th December 2012
Can someone confirm if a alan wilson was in the wigan fire brigade sometime in the 1970s, he was also stationed at widnes about 1972/3. Sure he came from wigan and would be in late 50s/early 60s