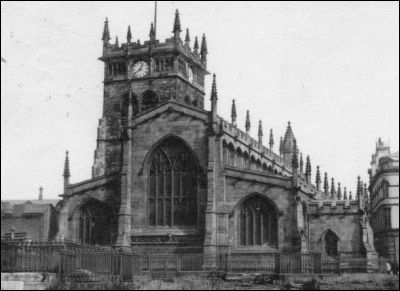 THE Parish Church of All Saints rises from the high ground behind the Market Place, and is a stately edifice in the early perpendicular style and occupies the site of the 10th century structure. It has been proved that a Church stood on the present site in Saxon times from the survey of William the Conqueror. The first known Rector was Ranulf, and on the 12th June, 1199, a grant was made to Adam Clark De Frekelton of the perpetual Vicarage of the Church of Wigan, at the request of Ranulf, Treasurer of Salisbury, Parson of Wigan. The next Rector but one, was John Maunsel, perhaps the best known of all the old Rectors, as it was he who was responsible for the Town's Charter in 1246. Maunsel was a favourite of the King and went to Brabant as envoy extraordinary in 1247.
THE present building dates from the 14th century, but only the Tower, Turrets, and Walmesley Chapel belong to this early period, the Church having been thoroughly restored in 1620, and (with the exception of the Walmesley Chapel) practically rebuilt between 1846 and 1850. The original lines, however, were preserved and much of the old material, columns and portions of the walls incorporated. The roof is largely 15th century work. The Tower believed to be the original Norman Fabric (the walls being seven feet in thickness) was completely refaced in 1922 with Parbold stone. The most important objects of interest within the building are the tomb of Sir William Bradshaigh and his wife Lady Mabel (early 14th century), two earlier "Celtic" crosses, one outside the Bradshaigh Chapel, the other in the Tower Wall, the 13th century Font, a Roman altar built in the base of the Tower, a Norman tomb effigy also in the Tower Wall, the St. Christopher stained glass window designed by William Morris in the South Aisle, the particularly beautiful "Sepia" window in the Bradshaigh Chapel, the Mortlake tapestry now in the Vestry, and some old Communion Plate, Alms Dishes, etc. The War Memorial Inner Porches (1927) are especially worthy of notice. The Registers are a very complete series dated back to 1580.
AN interesting sidelight on the Church's history is given in the Civil War Tracts, wherein it is recorded that in 1643, eighty-six men of the Royalist Army took refuge in the Church Tower and caused more casualties among the Parliamentarian forces than they had lost during the storming of the town itself. These men were indirectly the cause of the town being evacuated by the Parliamentarian Troops.
IT is a far cry from 1643-1918, but speaking of wars, we are reminded that the town's War Memorial stands in front of the Church. It takes the form of an Eleanor Cross, to the design of Sir Giles Scott, and it records the names of some 1,700 men of the "ancient and loyal borough" who fell in the Great War.