| | | |
| --- | --- | --- |
| Fanconia Passengers 1928 | | Views: 899 |
| Ships Passengers 18th August 1928 | | Comments: 4 |
| Photo: RON HUNT Item #: 29382 | | |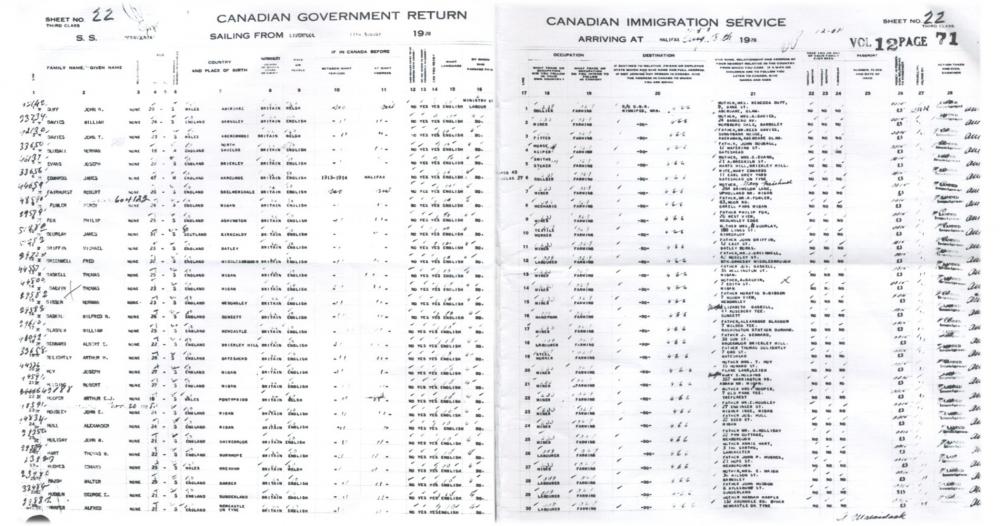 | | | |
| --- | --- | --- |
| | Image scaled down from 1000px to 526px wide | Click here, or click the photo to view original |
A part of the ships passenger list. Notice how many Wiganers are listed on just this one page. All Miners wanting to be Farmers. Their passage paid for by the MINISTRY OF LABOUR.
Thanks to Trevor Smith for the information.
Comments by RON HUNT, 25th May 2017
Sorry folks looks like the top magnification doesn't allow you to read the names etc.
Comments by j greene, 26th May 2017
My grandfather Martin Lee (see People>Lee Family Lower Ince) was on board this ship with many other Wiganers. As you say Frank they were en-route to find work on the land in Manitoba. In my grandfather's case he didn't stay long in Canada - he received a telegram to say his father-in-law had died on 20th August and he had to return back to Wigan. As a young boy I recall my grandfather telling us tall tales about being on the Titanic. He was clearly recalling his days aboard Franconia.
Comments by winnie, 29th May 2017
i cant read it is there a ralph unsworth on there by any chance please
Comments by RON HUNT, 29th May 2017
This is only 1 page of the ships manifest, surnames D-H Here are the Wiganers listed on this page, no doubt as this is page 22 there will be quite a few more Wiganers on the ship
PERCY FOWLER,age 24 THOMAS GASELL,age25 THOMAS GALVIN,age 23 JOSEPH HOY,age27 ROBERT HOLDING,age27 JOHN E. HOUSLEY,age24 ALEXANDER HULL, age24