| | | |
| --- | --- | --- |
| Wigan Spitfire Plaque | | Views: 2062 |
| Wigan Spitfire | | Comments: 3 |
| Photo: Ron Hunt Item #: 19786 | | |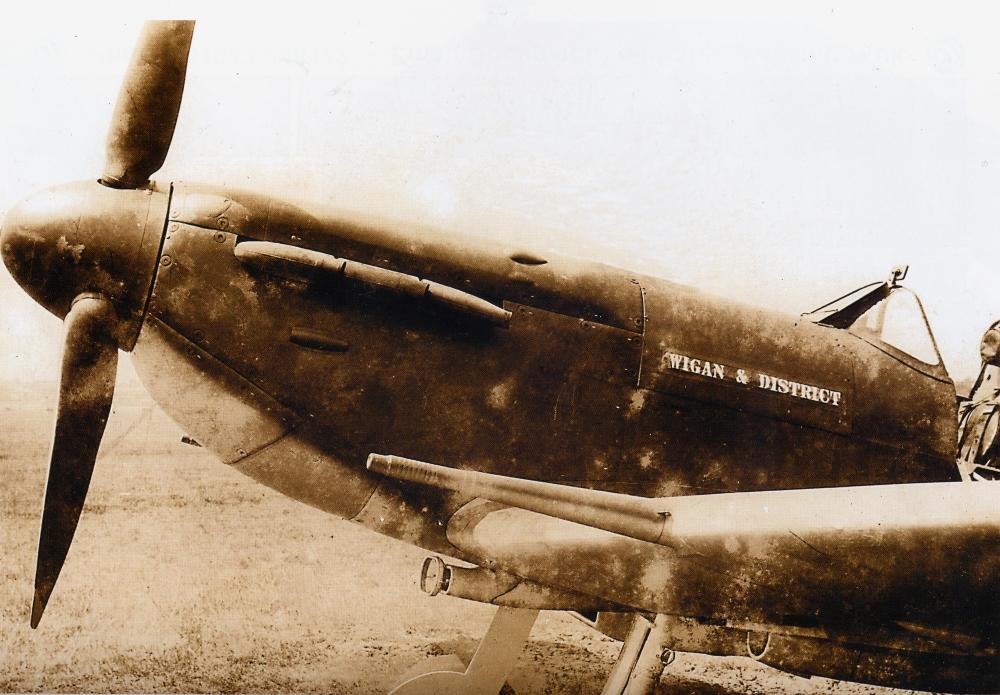 | | | |
| --- | --- | --- |
| | Image scaled down from 1000px to 695px wide | Click here, or click the photo to view original |
| | | |
| --- | --- | --- |
| | Spitfire bought with funds raised raised during Spitfire Week 1940, by the people of Wigan and District. | |
Comments by Joseph, 4th February 2012
The "Wigan and District Spitfire Appeal" collected donations amounting to £7,886, 5 shillings and 8 pence and Supermarine Spitfire Mk IIB serial number P8244 was given the name "WIGAN AND DISTRICT". Built in the Castle Bromwich factory of Vickers-Armstrong under a contract dated 12 March 1939 for 1000 Spitfire IIs, she was issued to No 24 Maintenance Unit at Ternhill on 30 March 1941. On 25 May 1941, she was taken in charge by No 222 (Natal) Sqn, based in North Weald where she received the fuselage code ZD-G. Spitfire "WIGAN AND DISTRICT" was struck off charge as missing 19 August 1941.

The Pilot...

Rudolf Ptacek was born 19 April 1918 in Kostelec nad Orlici. On 18 August 1941, 222 (Natal) Sqn moved to North Weald. The day after, 12 of the unit's Spitfires took off at 5:40 pm (English time) to take part in CIRCUS 82. At about 6:25 pm (English time) flying aboard Spitfire Mk IIB serial number P8244 "WIGAN AND DISTRICT", Ptacek claimed a Bf-109 destroyed east of St Omer before being shot down by Oberleutnant Johannes Schimd of Stab/JG 26, at 7:55 pm (German time).
Rudolf Ptacek successfully evaded capture, was put in touch with the 'Organisation' and returned to the UK by what later became known as the Pat O'Leary escape line. On 8 January 1942, three days after his return from France, Sgt Ptacek was posted to 602 (City of Glasgow) Sqn, based in Kenley and on 3 February was promoted to Warrant Officer. On 28 March 1942 W/O Rudolf Ptacek was flying a 602 Sqn Spitfire VB on a RODEO fighter sweep over enemy territory when he was reported missing, presumed shot down near Calais. His name is inscribed on Panel 73 of the Runnymede Memorial. I put this info on Wiganworld a few years ago with photos of the pilot and plane which I seem to have deleted from my photobucket.

Great photo, Ron.
Comments by Wigan3r, 6th February 2012
More on the Pilot here: http://www.conscript-heroes.com/Art%20Rudolph%20Ptacek.html
Comments by Wigan3r, 6th February 2012
More on the purchase of the Spitfire, Including letters and receipts here: http://www.forumforfree.com/viewtopic.php?t=551&start=0&postdays=0&postorder=asc&highlight=&mforum=northwestway