| | | |
| --- | --- | --- |
| Wigan Rugby | | Views: 731 |
| Wigan v Carcasonne 1947 | | Comments: 4 |
| Photo: RON HUNT Item #: 29350 | | |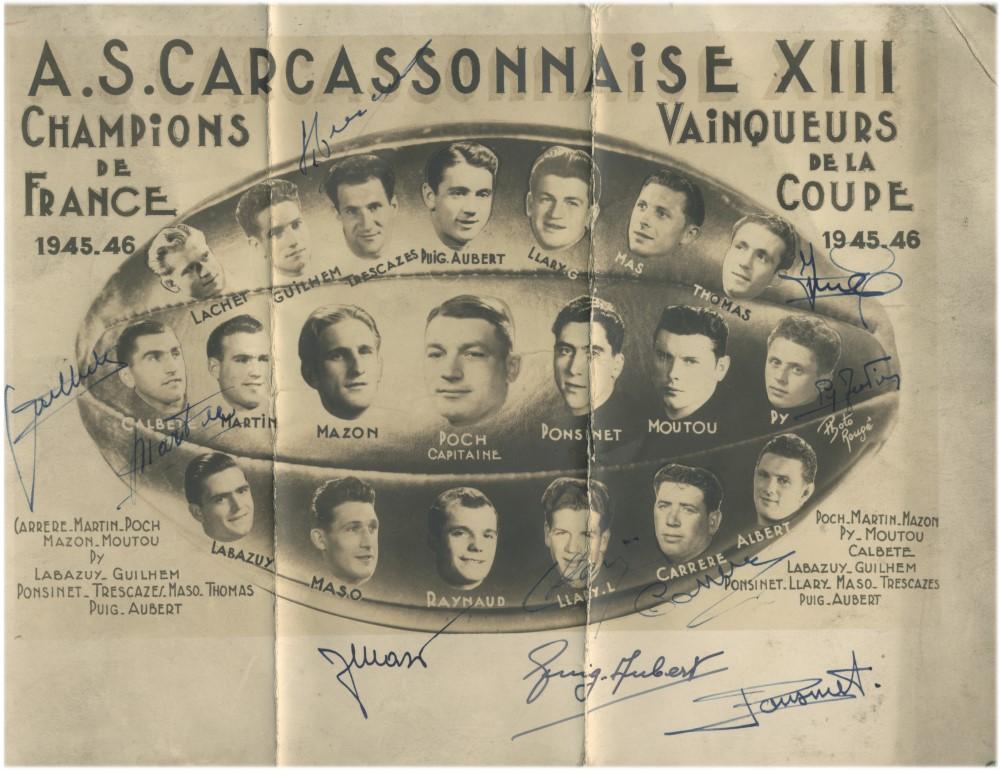 | | | |
| --- | --- | --- |
| | Image scaled down from 1000px to 770px wide | Click here, or click the photo to view original |
| | | |
| --- | --- | --- |
| | Signed card 9" x 7" showing photographs of the Carcasonne Rugby Team 1945-46. Who played Wigan March 12th 1947 I think these were given as a souvenir to the players of Wigan a the time of the game? | |
Comments by John, 12th May 2017
An interesting item. Carcassonne won that game 11-8. Wigan also played French side Roanne twice in the 1940s, in 1948 and 1949. Does anyone know who won these matches?
Comments by Alan H, 13th May 2017
I was at Central Park for the game but the only thing that I remember was that they started the game using a French ball that was smaller than our ball. Wigan found it difficult to handle so when we were awarded a poenalty Billy Blan kicked it over the Douglas stand and it was never seen again.
Comments by Keith Beckett, 13th May 2017
The phenominal rise of RL in pre war France and it's obliteration by the government is documented in the book,'The Forbidden Game', by Mike Rylance.
Comments by NORMAN CUNLIFFE, 21st June 2017
I thought,until very recently,that Alan H.was wrong in saying that Billy Blan kicked the small French ball over the stand into the Douglas. I was at the game and I thought it was Jack Cunliffe, Wigan's full-back. But according to Cherry and White.co.uk we are both wrong. Wigan's team was 1.Ted Ward 2.Jack Hilton 3.Johnny Lawrenson 4.Ernie Ashcroft 5.Stan Jolley 6.Ces Mountford 7.Frank Tracey 8.George Woosey 9.Joe Egan 10.Joe Shovelton 11.Emrys Evans 12.Frank Barton 13.Harry Atkinson