| | | |
| --- | --- | --- |
| Jackson family of Hindley. | | Views: 965 |
| De Trafford farm Hindley. | | Comments: 7 |
| Photo: . Ozymandias . Item #: 29744 | | |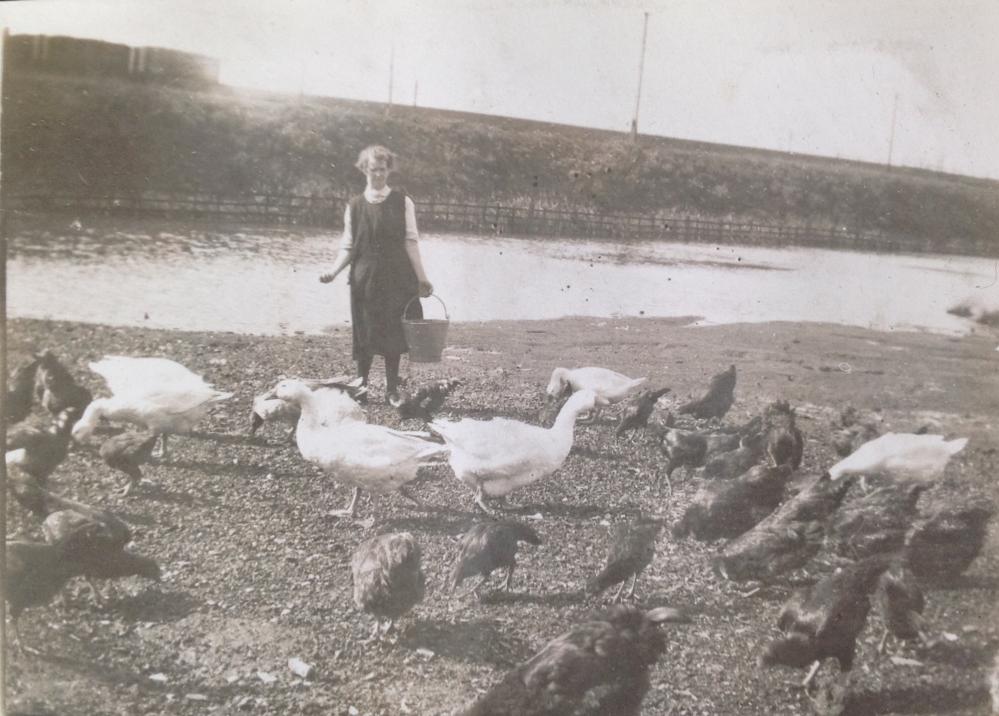 | | | |
| --- | --- | --- |
| | Image scaled down from 999px to 716px wide | Click here, or click the photo to view original |
| | | |
| --- | --- | --- |
| | Mrs Mary Wilson ( nee Grady ), mother of Mary Ethel Wilson, tends to the poultry on her smallholding, referred to as De Trafford farm. Date of the photo is unspecified but possibly mid to late 1920's. Mrs Wilson and her family moved to this farm around 1908, after living in a terraced house, which no longer exists, close by the Dover lock in Abram. The flooded area is possibly the area on the 1907 OS map of Hindley marked as 712.....Although some may disagree, I'm reasonably confident that the embankment visible behind Mrs Wilson would have been the scene of the 1900 railway accident. | |
Comments by GW., 22nd September 2017
And there those birds they call "chooks" in Australia,.... Ozy.
Somebody stop me...
Comments by John G, 22nd September 2017
Ok let's have a good ganders at what's going on here, I can't imagine Ozy sticking his neck out to far unless he's confident of his facts because he is to shrewd for that. But a Mrs Wilson started some memories moving due to her maiden name Grady, I used to work with a Mick Grady who was a police officer after leaving school from upholand secondary school probably at the same time as our very own Philip Gormley, he was mainly based in Skem at the time. Then when he retired from the Police he moved to Security and I recall him mentioning his relations as Wilson. I could be wrong and if he's reading this please accept my apologies Mick, but I'am just trying join up some coincidences.
Comments by Keith Beckett, 22nd September 2017
Ozymandias.

The 1939 census lists the address as De Trafford farm Egerton Street. The adjacent address on the census is Orrell street.
Occupants. Joseph Wilson dob 13/01/1876, occupation colliery hewer. Mary Wilson dob 20/06/1885, amended on 29/11/1950 to 1895.
Comments by winnie, 22nd September 2017
Name: Joseph Wilson
Age in 1911: 32
Estimated birth year: abt 1879
Relation to Head: Head
Gender: Male
Birth Place: Waverton, Cheshire, England
Civil Parish: Hindley
Search Photos: Search for 'Hindley' in the UK City, Town and Village Photos collection
County/Island: Lancashire
Country: England
Street address: De Trafford Farm Off Liverpool Rd Hindley
Marital Status: Married
Occupation: Coal Mine Labourer Underground
Registration district: Wigan
Registration District Number: 458
Sub-registration district: Hindley
ED, institution, or vessel: 19
Piece: 23034
Household Members:
Name Age
Joseph Wilson 32
Mary Wilson 25
Thomas Wilson 3
Ethel Wilson 5
Phyllis Wilson 8/12
Comments by Pw, 22nd September 2017
Typed in Stuff,Hindley directory,found Orrell street,there is an entry Wilson Joseph,collier.Trafford farm.Looks like the one you are after.
Comments by . Ozymandias ., 22nd September 2017
I'm indebted to every one of you for your excellent detective work. Should any of you ever find yourself in need of employment, please don't hesitate to contact my recruitment team, GW and DTease. We currently have positions available overseas, the former British colonies in particular.

Regards. Ozy.
Comments by winnie, 23rd September 2017
http://friendsofleylandpark.org.uk/history.html