| | | |
| --- | --- | --- |
| Standishgate | | Views: 1827 |
| Standishgate | | Comments: 9 |
| Photo: Mick Item #: 29865 | | |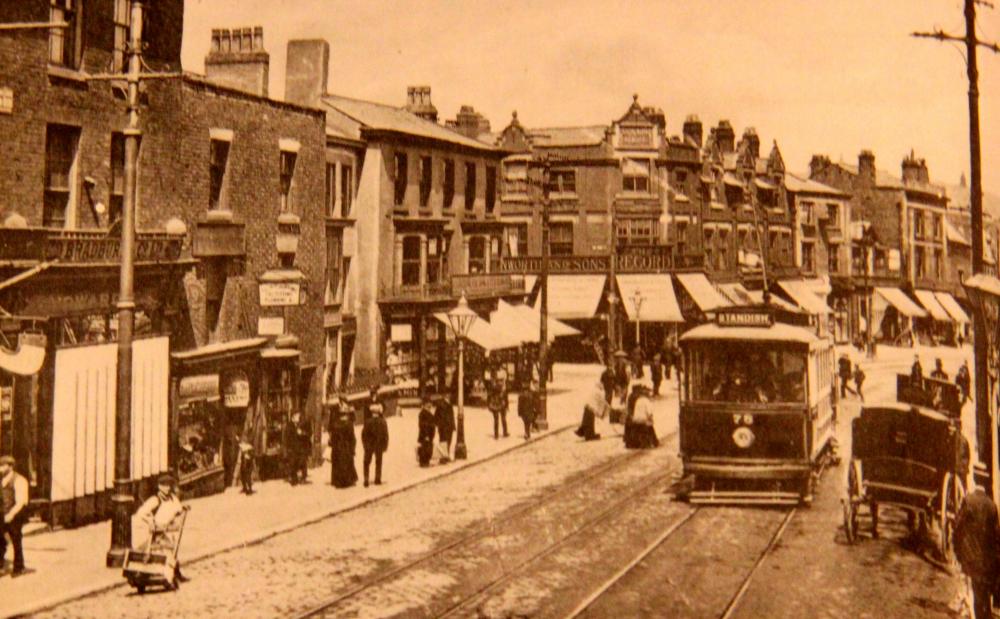 | | | |
| --- | --- | --- |
| | Image scaled down from 1000px to 619px wide | Click here, or click the photo to view original |
Further to recent photos showing the old shops on Standishgate - a view looking down Standishgate, towards Mesnes St, showing the same buildings.
Clephan's electrical shop can be clearly seen on the left.
Comments by irene roberts, 10th November 2017
So the shop with a fancy, ornamental top, that appears to be on a corner and seems to have three sunblinds on it, is what is now Subway, and if you turned left there you would be in Mesnes Street? Therefore the shops further on than that, leading out of the photo, are the ones now opposite Primark?
Comments by Ian., 10th November 2017
Correct on both questions, Irene.
By the way. Great photo, Mick.
Comments by Mick, 10th November 2017
Correct, Irene. The building with the ornate pediment is Cowling Buildings, on the corner of Mesnes St and Standishgate.
Comments by Richard Emery, 10th November 2017
The Tram is heading up Standishgate toward Market Place,
despite it showing "Standish" on the indicator. The driver
and/or the conductor maybe forgot to change the indicator
blind to "Wigan" when they arrived at the Standish terminus.
Or perhaps they changed at the last tramstop,in readiness
for their next journey to Standish.
Comments by fred foster, 10th November 2017
Before it was Subway it was Rumbelows and before that it was Nimans jewellers and fancy goods. My wife Edna worked there before we were married.
Comments by irene roberts, 10th November 2017
Thanks, Fred. I remember Rumbelow's well.
Comments by Philip Cunliffe, 11th November 2017
Before Rumbelows it was Bulloughs. Sold records downstairs and had listening booths. Presume the jewellers was before this.
Comments by Keith, 11th November 2017
There's an outside possibility that the incorrect destination as it appears on the tram could be down to my maternal great grandfather, James Gorrie who was a Wigan tram driver for many years before WW1.
Comments by Norman Cunliffe, 8th December 2017
Fred,it's possible that your future wife served me when I bought a present for my future wife from Niman's. Are you the Fred I know from the Grammar School? If so, see you at the next re-union Dinner.