| | | |
| --- | --- | --- |
| Standish | | Views: 1675 |
| The last of the Standish Family | | Comments: 16 |
| Photo: Rev David Long Item #: 29828 | | |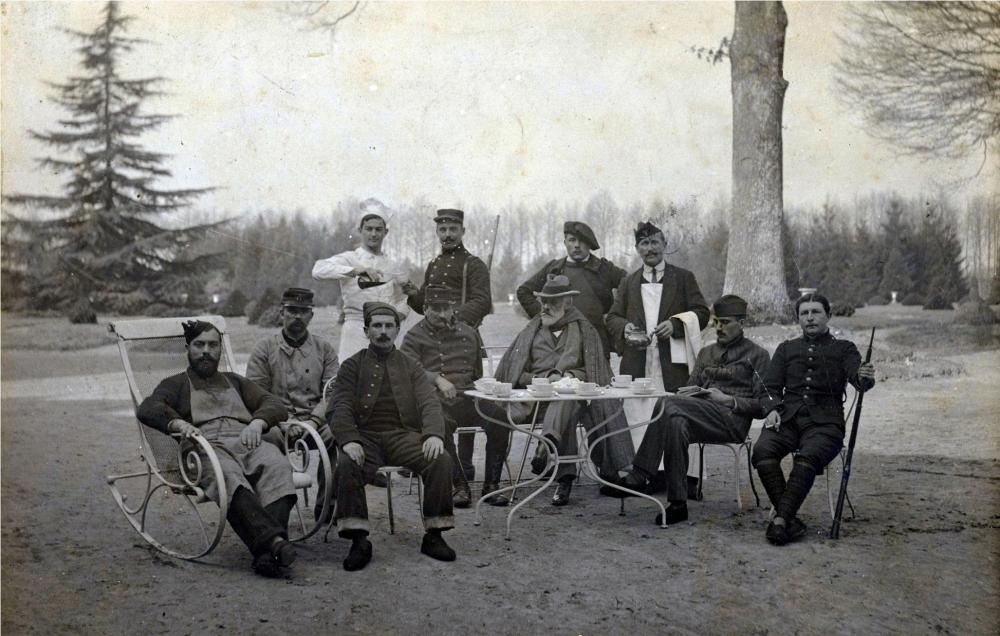 | | | |
| --- | --- | --- |
| | Image scaled down from 1000px to 636px wide | Click here, or click the photo to view original |
Whilst things Standish are current - I've just found three pics on this site:
https://en.wikipedia.org/wiki/File:Henry_Noailles_Widdrington_Standish_of_Standish_(1847-1920)_B.jpg
They depict the last owner of Standish Hall at his chateau in France (Chateau de Montjoye at Clairefontaine-en-Yvelines) during WW1 - when he and his wife turned over part of their vast house to be a convalescent home for wounded French and British soldiers. If you Google the chateau you'll perhaps see why Standish Hall was second-best!
After his death in 1920 the chateau, like Standish Hall, was sold off. The Lazard banking family bought it. It is now the HQ of French football.
A circle squared - whilst he was using his French chateau as a military hospital, Standish Hall was occupied by the Almond family - who had given over their home, The Beeches, to be an Auxiliary military Hospital.
Comments by Rev David Long, 28th October 2017
Sorry - forgot to give his name: Lord Henry Noailles Widdrington Standish.
Comments by Poet, 28th October 2017
For some reason some Wiganers think we Standishers are posh.
Comments by Veronica, 29th October 2017
I recall a visit to New England and Plymouth Sound and going on a 'mock up' of the Mayflower . The 'crew/cast' were brilliant with the accents. I mentioned that I had lived near Standish in Wigan and it was as if I was some long lost cousin of Myles Standish with the fuss they made of me!
That was some holiday!
Comments by DTease, 29th October 2017
Standish is just an upmarket council estate these days
Comments by Sonia, 29th October 2017
That might be something to do with their insistance on referring to it as 'The Village'as though it's deepest Devon.
Comments by WN1 Standisher, 29th October 2017
Good photo Reverend, did anyone get a photo of recently when the Beeches was given over as a retreat for the travellers. Standish could at one time refer to itself as a 'village' but with the recent expansion, it's in danger of losing the very attraction that drew people to it in the first place
Comments by Veronica, 29th October 2017
That applies to a lot of places which were once 'villages' ie Westhoughton for one. I thought I was going to the 'back of beyond' fifty years ago but now it's a place for the 'go ahead' career types in newly built posh houses and apartments.
Comments by Barrie, 29th October 2017
Veronica, I agree with you about being in the USA and Standish. In 1996, my wife & I took a holiday travelling from New York to San Francisco by the train. On the leg from Denver to SF, we were asked by some "locals" whilst at breakfast where we came from. When I said born& bred in Standish, they were full of knowledge about Miles Standish etc because they had been taught it in school and proud about it. Soon after that ,another chap came up the breakfast carriage and after hearing about Standish, stated he was born and bred in Wigan but now lived in the Midlands. We live in a small world as we travel around. I look back at growing up in Standish & Wigan in the 50's & 60's with pride.My parents moved from Swinley to Standish in 1940.They were not stopping but they did until 1972 & 1984 when they died. The places are not the same now in the 21 century but I guess we have to live with progress . Maybe in 50 years time the children growing up in the area of Wigan World will follow our example of reminiscing about olden times.
Comments by Veronica, 29th October 2017
I agree Barrie with all you say. The New Yorkers love our accent as well! I went on that holiday thinking those 'Yankies' would be so 'big headed' and they were not at all. Very nice people and on Rhode Island they were very concerned about Tony (Bair ) who had broken his leg! I daren't have said what I was thinking though! Apparently they thought I knew him personally!
Comments by Veronica, 29th October 2017
(Blair) and I think it was his arm that was broken!
Comments by Sonia, 29th October 2017
I don't think Standish could have truly been known as a 'Village' for the past hundred years. The properties they build there are usually 'executive' homes as well, it cannot cope with the volume of traffic
Comments by Rev David Long, 29th October 2017
Lord Henry and his wife moved in exalted circles. It's in French, but this site is interesting: http://www.wikiwand.com/fr/Hélène_Standish
Among other things it says that Lord Henry was so tied up looking after the soldiers at his chateau that he neglected his own health. His death occurred at the thermal health spa of Contrexeville in the Vosges mountains in 1920. He was 73.
Comments by Poet!, 29th October 2017
Oh villain, villain smiling damned villain.
Comments by John, 29th October 2017
If you view the website that Rev. Long mentions in Google Chrome, you can right-click on the text and it will be instantly translated into (comical) English. (Translation software still has a long way to go yet). Ordinary Wikipedia has a more dtailed article about Helen Standish, also in French.
Comments by John, 29th October 2017
Correction: the Wikipedia article that I said has more detail is about the same as the one that Rev. Long mentioned. Apologies.