| | | |
| --- | --- | --- |
| Bulldog Tools | | Views: 3838 |
| Retirement | | Comments: 16 |
| Photo: William Burgess Item #: 7102 | | |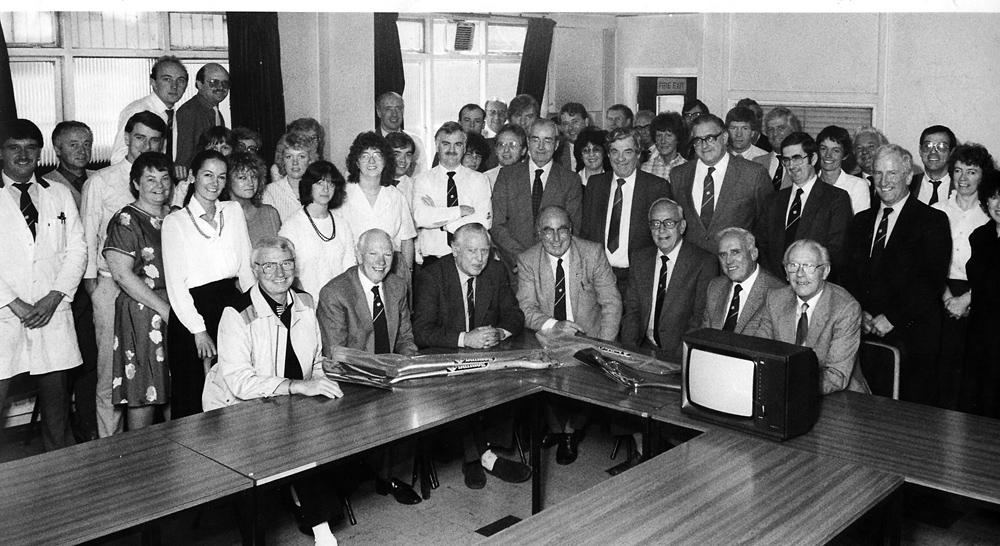 | | | |
| --- | --- | --- |
| | Image scaled down from 1000px to 546px wide | Click here, or click the photo to view original |
| | | |
| --- | --- | --- |
| | Boardroom of Bulldog, when a whole host of foremen retired at the same time. Will post names when I get them, one is Horace Davies, seated second left, my first boss and mentor. | |
Comments by xxStuartxx, 21st August 2008
Is that Johnny Kerfoot far left of the photograph also?
Comments by Bluesfan, 22nd August 2008
Alf Cartwight my old foreman at Henry Park St is seated in the centre of the picture. Hard but fair would be a decent description of Alf, as long as you got on with your work he would be ok with you. I've lost count of the number of times he let me nip out of work to go and watch the latics away. Hey maybe this comment will tug at the heartstrings of the current Bulldog hierarchy and we will once again be free to move in and out of work when we feel like it... ok I'll take that as a no.
Comments by in your dreams, 25th August 2008
hey bluesfan i very much doubt it u cant even fart now without them watching you on camera
Comments by glad tobeout, 26th August 2008
bluesfan is right sid locker was my foreman in fork shopand he was the same firm but fair as long as the work got done he did,nt mind what we did a great bloke to work for
Comments by xxStuartxx, 26th August 2008
So, is it John Kerfoot or not?
Comments by Harry Blinston, 26th August 2008
I think my younger brother Ken followed Alf Cartwright as Foreman
Comments by glad tobeout, 26th August 2008
No stuat its Harry Eastham
Comments by Bluesfan, 27th August 2008
Hi Harry, yes Ken followed Alf. Ken was a cracking foreman, bit more laid back than Alf and another one who was more than fair with you if you did your work. Even forgive him for being a big Bolton fan!
Comments by Jacko, 28th August 2008
Just a guess at a name - but follow the path.
TV - man sat directly behind wearing glasses - the man stood behind him is BRIAN SCRIVENS (i think) he played for Wigan RL -
where are
George Melling (Works Manager in the 60's) -Dennis ????????? (Sales Director).
Frank Darbyshire (Managing Director).
I worked for the group in the 60's and Group offices were in Darlington St.
Can anyone add any more names
Comments by Glad tobeout, 29th August 2008
Six of the seven men seated are from left to right Len Swift , Horace Davies ,Alf Cartwright ,Sid Locker ,Jim shelley , Charlie Winnard can,t remember the last one I can also see in the background Peter Ingram Eric Johnson Bernard Oniell Bernard Lundy
Comments by Harry Blinson, 29th August 2008
Hi Bluefan
To forgive anyone for being a Wanderers fan takes some doing !

Take care
Harry.
Comments by dirk diddler, 31st August 2008
The one far left is harry heap again another good foreman gave me my start at bulldog others i can see are eric johnson,alan hart,ian grimshaw,and paul halliwell
Comments by Has Been, 19th October 2008
Front row left to right, Len Swift,Horace Davis,Alf Cartwright,Sid Locker,Jim Shelly, Charlie Winnard,& Joe Balfour.
Are any more required?
Comments by greenfingers, 22nd March 2010
jack taylor centre back in the window
Comments by pianostripper, 11th June 2010
Frank Darbyshire is first male working way in from left on 3rd row back
Comments by Has Been, 24th August 2010
Left to right, Harry Eastham, Eric Johnson,Mr Branagan,peter Ingram,Alan HartBernard O'Neil(by curtain)Kath Murphy(behind Horace Davies)Norman Letchford (Behind Alf Cartright)Jim Francis(DPI Chairman behind Sid Locker)Ian Grimshaw(JF'S RHS)Don Walsh(between JimShelly & Sid Locker,)left to right,Jack Boden,Bernard Lundy,Frank Darbyshire,John Hardacre,Ian Hall,Brian Scrivens,Bill Vernazza,Norma Branagan,Pat Topping.