| | | |
| --- | --- | --- |
| Railways | | Views: 1148 |
| Bickershaw colliery. | | Comments: 10 |
| Photo: Mick Langton Item #: 29552 | | |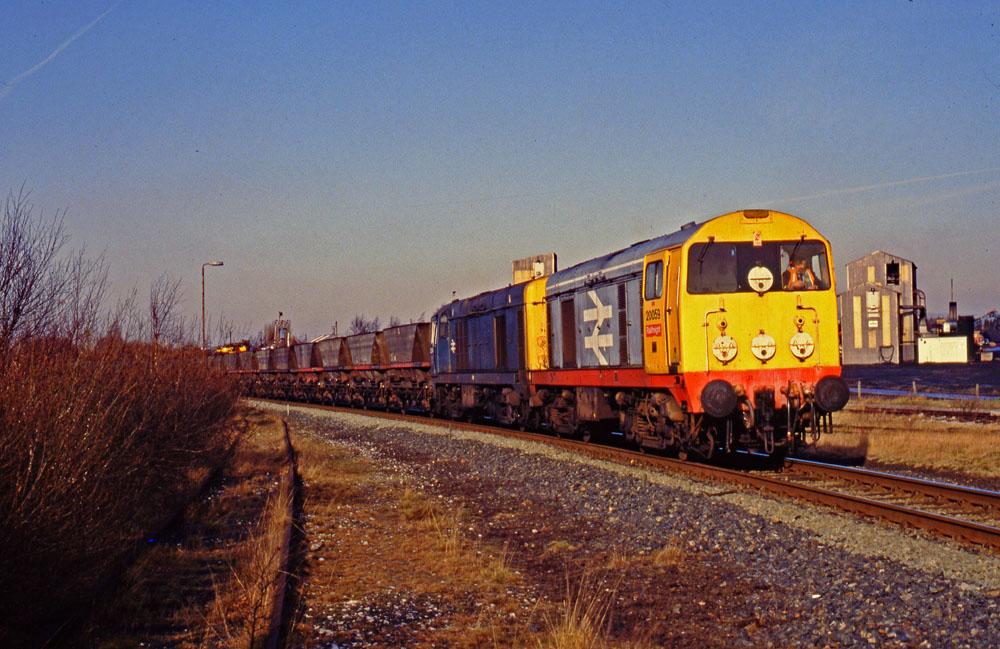 | | | |
| --- | --- | --- |
| | Image scaled down from 1000px to 649px wide | Click here, or click the photo to view original |
| | | |
| --- | --- | --- |
| | Class 20s Nos 20059 & 20094 passing the site of the exchange sidings en route to Bickershaw colliery with 6T75 1400 Springs Branch - Bickershaw. Looks like Tommy Crooke in the driver's seat. | |
Comments by Si, 13th July 2017
Albert pit in the background.looks like the mid 80s I think.
Comments by Mick Langton, 13th July 2017
The date was 11th Feb. 1992.
Comments by si, 14th July 2017
My mistake I thought I could just see the old Albion water bowser we had about that time. Great photo Mick, brings back some good memories of working there.
Comments by Jack Flash, 14th July 2017
Your right Mick its Tommy Crooke
Comments by cullie, 15th July 2017
nice pair of choppers i dare say there was another set on the rear happy days indeed mick .
Comments by James, 16th July 2017
Can't have been long before these workings finished forever.
I was on the last passenger working to run on this line, it was a railtour from Bickershaw to Burn Naze on the old Fleetwood line, anyone remember that running?
Comments by Owdbill, 16th July 2017
James,The train you refer to was The Lune Ranger which started at London Euston on the 15th feb 1992. 47489 pulled the train from Wigan North Western to Bickershaw with 20081 and 20016 on the other end.The two choppers then worked the train to Burn Naze.
Comments by Mick Langton, 16th July 2017
Owdbill, the train also went to Heysham Harbour and ran as 1T32. I photographed it at Salwick and Six Arches, Scorton. I would post the pics but would probably be charged with posting pics with no Wigan connection!
Comments by Stan, 18th July 2017
Well Mick, we used to holiday at Six Arches caravan site in Scorton, so there's your Wigan link right there! Publish and be Damned I say!!
Comments by Mick Langton, 18th July 2017
Stan, I would also guess the locos were crewed by Springs Branch men! I'll do some scanning!!