| | | |
| --- | --- | --- |
| Cromptons | | Views: 2908 |
| Cromptons ladies. | | Comments: 10 |
| Photo: John Duffy Item #: 10715 | | |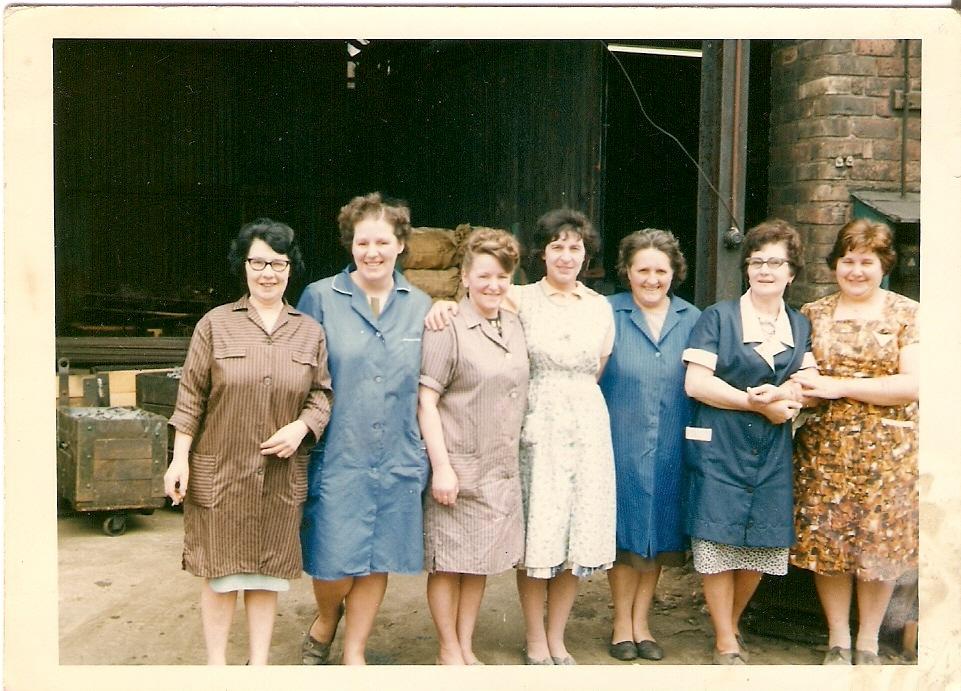 | | | |
| --- | --- | --- |
| | Image scaled down from 961px to 691px wide | Click here, or click the photo to view original |
| | | |
| --- | --- | --- |
| | A photo of ladies who worked at Cromptons taken in the late 1960's.They are L-R; Mary, Harriet, Gladys, Edna, Ivy Taylor, Jenny & Alice. | |
Comments by shirley, 17th May 2009
is that mrs coward 1st from left,iam sure it is she lived in birch grove,also i think 3rd from left is james hodson's mum
Comments by Susan Atkins nee Atherton, 17th May 2009
I agree with you Shirley, Mrs. Coward and Mrs. Hodson.
Hope you are well.
Comments by shirley, 17th May 2009
h i susan,yea iam good thanks,hope youre ok, i just love this site its great looking back at all these pics,and its a little bit sad to,but some great memories of downall green
Comments by Bill Meehan, 18th May 2009
recognise Gladys Hodson - anyone else have photos pf Cromptons in 1970's and 1980's
Comments by ANNE CAULFIELD, 18th May 2009
YES BILL MEEHAN I HAVE POSTED A PHOTO OF CROMPTONS, NOT SEEN IT YET THOUGH, BEFORE YOUR TIME THOUGH I TAKE IT YOU ARE THE SAME BILL WORKED IN THE OFFICES WHEN I WORKED FOR JACK WINTER?? REMEMBER?
Comments by Lisa Ramsdale-Leigh, 27th May 2009
Yes, far left is indeed my beloved Nana, Mary Coward, who lived at 64 Birch Grove with husband Albert for 51 years - daughter Patricia, who also worked at Cromptons, is my Mum. Great to see on these pages how many people remember the Cowards of Birch Grove!
Comments by bill meehan, 7th July 2009
thanks anne i will look out for your photo yes i did work on cost office with barry eric norman - happy days werent they i am getting in touch with eric soon.
Comments by ANNE CAULFIELD (PICTON), 9th July 2009
BILL NICE TO READ YOUR COMMENT.PICTURE I SENT IS NOW ON THE ALBUM(BOX SHOP) BEFORE YOUR TIME THOUGH. YES! GOOD TIMES AT GERARD STREET. ERIC IS ON THIS SITE A FEW TIMES. I REMEMBER ALL YOU LADS, BARRY, ERIC, DAVID,ETC. ANNE
Comments by Bill MEEHAN, 18th September 2009
ANNE, ERIC - JOINED THIS WIGAN WORLD THING - ERIC GOT YOUR TEL NO FROM JANICE - SEE HER IN WIGAN OCCASIONALLY - GO GOR A DRINK SOON?
Comments by A.CAULFIELD, 30th October 2009
JUST READ YOUR LAST COMMENT BILL ON THIS SITE, I HAVE NOT BEEN ON IT FOR A WHILE. DID YOU GO FOR YOUR DRINK WITH ERIC YET? GOOD TO MEET UP WITH FRIENDS. REMEMBER BERYL? WE SEE EACH OTHER EVERY WEEK AND GO ON HOLIDAYS TOGETHER.