| | | |
| --- | --- | --- |
| Wigan Grammar Schools | | Views: 2870 |
| 1st year, Grammar School 1957/8. Before our regular cross country slog at Prospect Park. | | Comments: 10 |
| Photo: Cliff Higham Item #: 484 | | |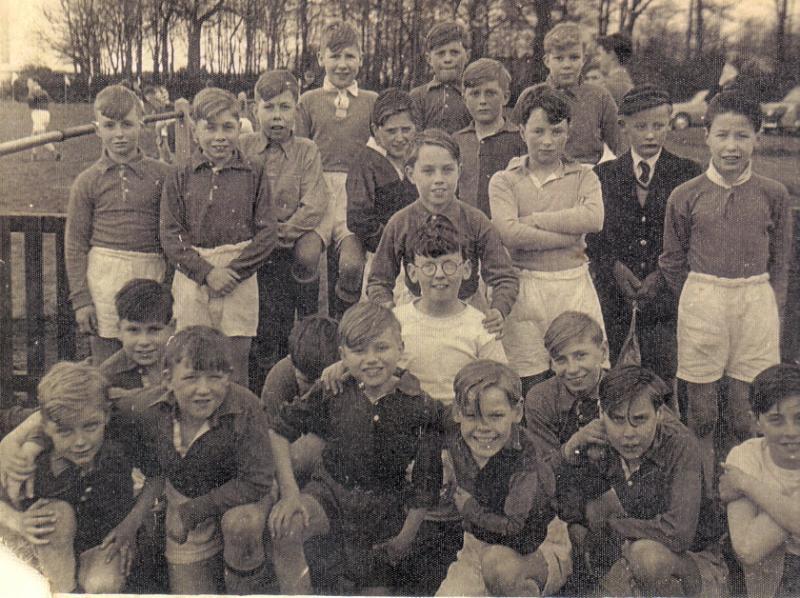 | | | |
| --- | --- | --- |
| | Image scaled down from 800px to 598px wide | Click here, or click the photo to view original |
| | | |
| --- | --- | --- |
| | 1st year, Grammar School 1957/8. Before our regular cross country slog at Prospect Park. | |
Comments by the quiet one, 15th September 2008
this is a better photo the real stuff Sepia I remember critchley with his gloves on he was telling jokes all day I,ll never forget oh and I came 5th woohoo
Comments by Pikey, 18th September 2008
The Lord said come forth and I came last.
Comments by Robin, 9th November 2008
I came I dont know where but I enjoyed it.
Comments by Fred Mason, 10th December 2008
Cliff, lad,

I have travelled the world and met many nice and good people. I have never met such good lads as we all were, in 'them times'

Bless WGS and all that sailed in her....da dah...

What a bunch..!!!! The best..!!
Comments by jaz, 18th January 2009
I came I saw I played with my conkers.
Comments by Knowlsey, 29th January 2009
I came with 5 domino and smooked em in the bushes whilst the other chumps tortured them selves.
Comments by Fred Mason, 25th February 2009
Knowlsey, old chap,

Wished I had your brains, but I were a good lad, I were, and alus did as I were towd...You are still a boundah, sir.... poor Cliffy.....Stay away from 400, I say...!!!!!!
Comments by Derek Worm, 30th April 2010
I camd I saw ... Jim Holding having a drag in the bushes!
Comments by Bill Nev, 6th October 2010
I saw Jim Holding having a .. in the bushes.
Comments by B. Taylor, 5th February 2012
Could the Quiet One above be none other than Cliff, aka Bloo, aka Bloo Moon, Higham.

Only Cliff could recognise the subtle humour of the young but very wise Stephen Critchley.

Oh where is he now?