| | | |
| --- | --- | --- |
| Wigan Athletic | | Views: 22769 |
| Latics on the attack | | Comments: 19 |
| Photo: Ivor Hilton Item #: 8047 | | |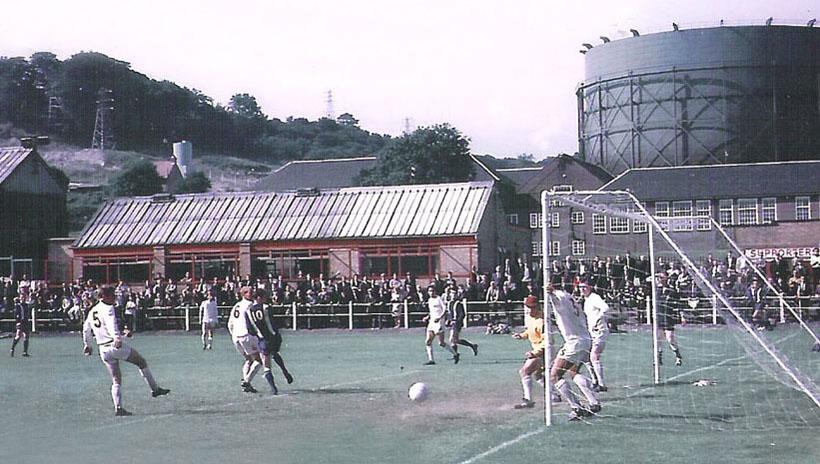 | | | |
| --- | --- | --- |
| | Image scaled down from 820px to 464px wide | Click here, or click the photo to view original |
| | | |
| --- | --- | --- |
| | A colour photo but still well over 35 years ago! A header is glanced wide of the post by the Latics player, but,(probably the easy bit) who is he? Also where was the match played at? | |
Comments by W.P, 21st November 2008
Is it Jim Fleming. I need a clue on the ground Ivor before it does my head in. Im sure I was at this game with my grandad 72ish and for some reason I'm thinking Bangor but something is telling me its a little closer to home.
Comments by W.P, 21st November 2008
Now I have had time to think about it and looking at the kit its probably 69ish and so it could be Jim McCloughlin. Still cant put a name on the ground.
Comments by Ticsmon, 21st November 2008
Latics only played in that kit two seasons 1968/69 & 69/70, the first seasons in the Northern Premier League. I am not sure who the player is. It could be Jim Fleming or TONY McLoughlin. I can't recognise the ground either but I don't think its Bangor. They play in blue and are obviously at home.
Comments by W.P, 22nd November 2008
Tony McCloughlin of course, still had Jim Fleming on my mind because that ground is doing my head in.
Comments by tom, 23rd November 2008
is it Benny Cairney Ivor ?
Comments by K.T.F, 23rd November 2008
What was the result Ivor and was it league or cup?
Comments by marken, 24th November 2008
Could it be South Liverpool.
Comments by Ticsmon, 26th November 2008
It has been doing my head in too. However, after extensive searching of images (what a sad person I am!) I think this is the McCain Stadium, Scarbourough. Scarborough playing in all white threw me. This is not only a fantastic colour photo, it could also be an image of the Latics first ever game in the Northern Premier League. An away win 2-0 with Alan Ryan scoring two?... but i'll stand being corrected.
Comments by W.P, 26th November 2008
Ticsmon youre a genious. It is indeed Scarborough and a 2-0 win for Wigan. C,mon Ivor was it Tony McClaughlin or Alan Ryan?
Comments by W.P, 26th November 2008
Hope thee link works
Heres the proof

http://www.seadogsfans.co.uk/McStad/images/Eddy_Brown_in_NRSC.jpg
Comments by Ticsmon, 29th November 2008
Saturday 10 August 1968 so it's over 40 years ago! I think Tom is correct with Benny Cairney. Alan Ryan was probably No.9. Players didn't have names on shirts or squad numbers (try telling that to kids these day and they won't believe you!). I also think that's Billy Sutherland on the left of the picture with John Sealey and 'Mandy' Hill on the right.
Comments by Ivor, 1st December 2008
Well done Tom (again!)It is Benny Cairney.
Hey Ticsmon, can't fault you for effort but you "stand to be corrected", so... Alan Ryan didn't score two goals and it's NOT the McCain Stadium! I'll leave you to ponder over that before the next photo challenge!
Comments by W.P, 1st December 2008
The Athletic Ground, Scarborough!!
Comments by Ivor, 8th December 2008
Spot on W.P.! Couldn't resist throwing that one in!
Also first N.P.L.goal scored by Billy Sutherland.
Comments by danny cairney, 20th April 2009
hi guys, stumbled across your comments whilst googling my dad's benny cairney name. i'll ask him if this is indeed him and feed the info back.

my dad played for northwich victoria however, i don't thin he played for any of the teams mentioned. we lived in wigan where i was born 1968 and moved back to scotland in 1972.

is the player in question #10?
Comments by Ivor Hilton, 1st September 2013
Sad to read this week that Scarborough F.C. and then the newly formed Scarborough Town have hit hard times and now "officially cease to exist". Typifies how many ex-league clubs hit the skids. At least I have a happy memory of my visit there.
Comments by Ivor Hilton, 29th September 2013
My apologies to any Scarborough fans who may have found this site! It seems that another Scarborough club has risen from the ashes and played this Saturday (Sep 28th,2013) against Penrith in the 2nd Qual.Rd of the F.A.Cup. They now play in the Evo-Stik 1st South Division.
Comments by Alan turner, 30th December 2014
I played in the game at scarborough we won the game 2-0 first NPR game
Comments by Bluesfan, 10th October 2017
Top player Ian! I was sad when you left, cracking fullback. Hope your'e well